EDITOR'S NOTE: Never in the last ten years have the rates of return on savings been this high. A 1.95%, such a rate sounds like good news for savers, especially at a time when the stock market seems bound to plunge deeper and "cash is king." But the king is bankrupt, and the rate of savings is a nominal illusion that yields no substance. Because the current inflation rate of 7.7%, means your "real" rate of return is -5.75%, worse than any savings rate we've seen over the last 40 years. This is where holding physical gold and silver could have served you well as an asset with "positive" value.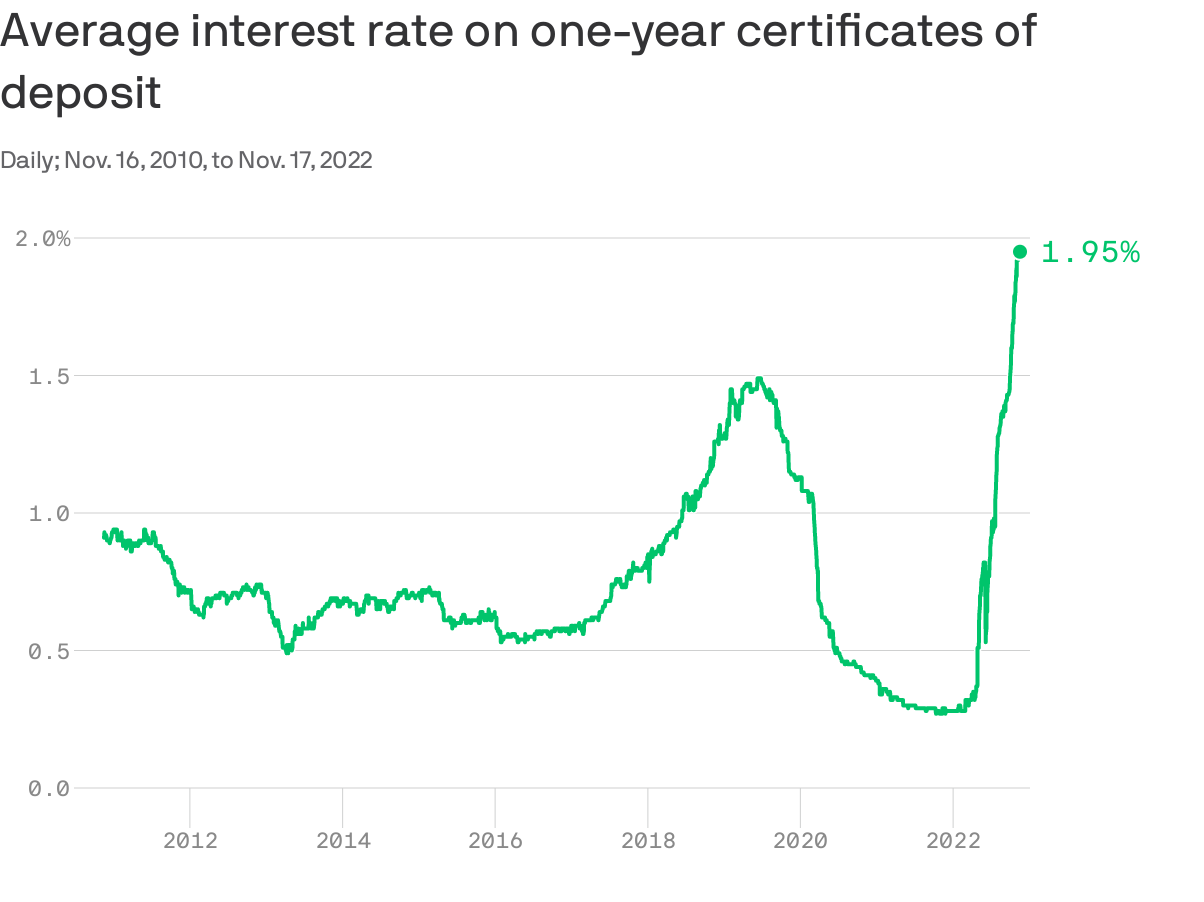 Source: FactSet, Bankrate; Chart: Axios Visuals
The Federal Reserve's campaign of interest rate increases has been kryptonite for the stock market this year. But another knock-on effect of rising rates is higher income on risk-free savings accounts — a welcome change for savers, Matt writes.
Why it matters: For the last dozen years or so, rates of return on savings have been quite low by historical standards. Interest on one-year certificates of deposit was well below 1% most of the time.
Now: Interest rates on savings are surging this year — the average rate on one-year CDs has risen from nearly zero to almost 2%, according to Bankrate.
Bear in mind, that's just an average. It's fairly easy to find rates online that are upwards of 4%.
The impact: Those living on fixed incomes may see their income streams going up.
Yes, but: While 2% is better than nothing, it should still be noted that the real interest rate — which factors in the impact of inflation — on most CDs is still negative.
How that works: With inflation at 7.7% over the last year, earning 2% on savings means savers are still effectively losing money on the deal.
But they're losing less than those keeping their cash under the mattress.
Originally published by Axios.