EDITOR'S NOTE: The Wall Street Journal reports that President Biden's early plans to combat unemployment with stimulus and QE monetary policy have backfired and led to rising prices and quickly-mounting inflation. Doug Holtz-Eakin, a former economic adviser to Republican President George W. Bush says of Biden's maneuvers, "It was just a mistake and we're paying for it." The worst part is that the policies left the Fed with "limited options" to stop it. Josh Bivens, a research director at the left-leaning Economic Policy Institute says, "They don't have any fantastic policy tool available to them" to stop this skyrocketing inflation. Holtz-Eakin says that now, "you just have to let it get through the system and don't repeat the error." That is not what most Americans want to hear. 
President is racing to show he can address rising prices amid mounting anxiety among some advisers ahead of next year's midterm elections.
WASHINGTON—President Biden took office with a raft of economic plans to better position the U.S. to compete on the world stage and jump-start a labor market ravaged by the pandemic. Ten months into his term, Mr. Biden is facing a new set of economic challenges.
The number of Americans seeking unemployment benefits fell to a 52-year low last week, available jobs are trending near record highs and consumer spending is rising. But those positive economic developments have been complicated by supply-chain bottlenecks and the highest inflation in three decades.
Now, Mr. Biden is racing to show the public that he is taking action to address rising prices and bottlenecks amid mounting anxiety among some of his advisers about political fallout heading into next year's midterm elections. He has instructed his most senior economic advisers to focus on the issues, White House officials said, setting up an internal task force that is tracking granular data such as how many containers are sitting in the country's ports and how long they have been there.
The Biden administration has limited options to slow rising prices and ensure that goods are delivered on time, economists and outside analysts said. Many economists are skeptical that efforts under way by the White House, including releasing petroleum reserves and prodding ports to operate longer hours, can meaningfully change the short-term path of inflation.
"They don't have any fantastic policy tool available to them" to address the drivers of elevated inflation, said Josh Bivens, research director at the left-leaning Economic Policy Institute.
There are multiple causes for surging inflation. The Delta variant has prolonged pandemic disruptions that the White House and many economists had expected to ease. Overseas factories and ports shut down, limiting the supply of goods when Americans had money to spend. Meanwhile, many Americans were reluctant to return to jobs and others had lingering child-care constraints, causing labor shortages.
Extremely low interest rates, reflecting Federal Reserve policy, and multiple rounds of government stimulus are contributing to booming demand for goods. Strong demand and limited supply are a recipe for inflation.
In March, as part of a plan crafted on the 2020 campaign trail to prevent a repeat of the 2009 recession, Mr. Biden signed into law a $1.9 trillion coronavirus-relief bill that included $1,400 checks to many Americans, an extension of a $300 weekly jobless-aid supplement, and a one-year expansion of the child tax credit that provides periodic payments for many households. Some economists have pointed to that package, which coincided with a pickup in economic activity as Covid-19 vaccinations became more widely available, as contributing to inflation.
"It was just a mistake and we're paying for it, and you just have to let it get through the system and don't repeat the error," said Doug Holtz-Eakin, who was an economic adviser to Republican President George W. Bush.
White House officials have said that the March law, known as the American Rescue Plan, may have contributed to rising prices, a possibility they said they were aware of before it passed. But they say that the law was necessary and that they can take steps to combat inflation now.
"We recognize the stress that this can put on family budgets and we're doing everything we can, both on the supply-chain side, the gas side, the offsetting-of-the-cost side to help families," said Jared Bernstein, a member of the White House Council of Economic Advisers, referencing inflation. "But we would not trade the benefits of the rescue plan for where we are today. The rescue plan saves lives."
The situation has caused some in the White House to begin to broaden their approach to economics beyond Democrats' longstanding focus on demand. "Never in my experience in government have I been part of more activity on the economy supply side," Mr. Bernstein said.
On Tuesday, Mr. Biden announced that the U.S. would release 50 million barrels of oil from U.S. government stockpiles in the coming weeks, part of a coordinated effort with several other countries. Earlier, he called on the Federal Trade Commission to investigate whether oil-and-gas companies are participating in illegal conduct aimed at keeping gasoline prices high.
Analysts say both efforts will have limited effects. Crude prices for future delivery initially rose modestly after Mr. Biden's Tuesday announcement, but fell Friday on worries about the Omicron variant of the coronavirus.
Mr. Biden has had limited success in finding quick ways to solve supply-chain bottlenecks. He pressed the nation's busiest ports to open 24 hours a day, but only one terminal in the ports of Los Angeles and Long Beach offers 24-hour pickups, four days a week, and has rarely stayed open overnight because not enough trucks have arrived to pick up shipping containers.
The White House has said other collaborative efforts with the Southern California ports helped ease congestion. The ports, for example, in October announced plans to impose fines on carriers whose containers sit too long at marine terminals. The implementation of the fees has since been postponed, with the ports citing improvements in moving containers after the fines were announced.
There are signs this week that global supply-chain woes are beginning to recede, but shipping, manufacturing and retail executives say that they don't expect a return to more-normal operations until next year.
In a global economy interconnected by trade and commodity prices, many countries are dealing with elevated inflation, showing the challenge isn't unique to the U.S.
White House officials have privately expressed frustration that positive economic developments on employment have sometimes been overshadowed by coverage of inflation and supply-chain problems, people familiar with the discussions said. They are trying to strike a balance between touting those developments and acknowledging the effects of rising prices, the people said.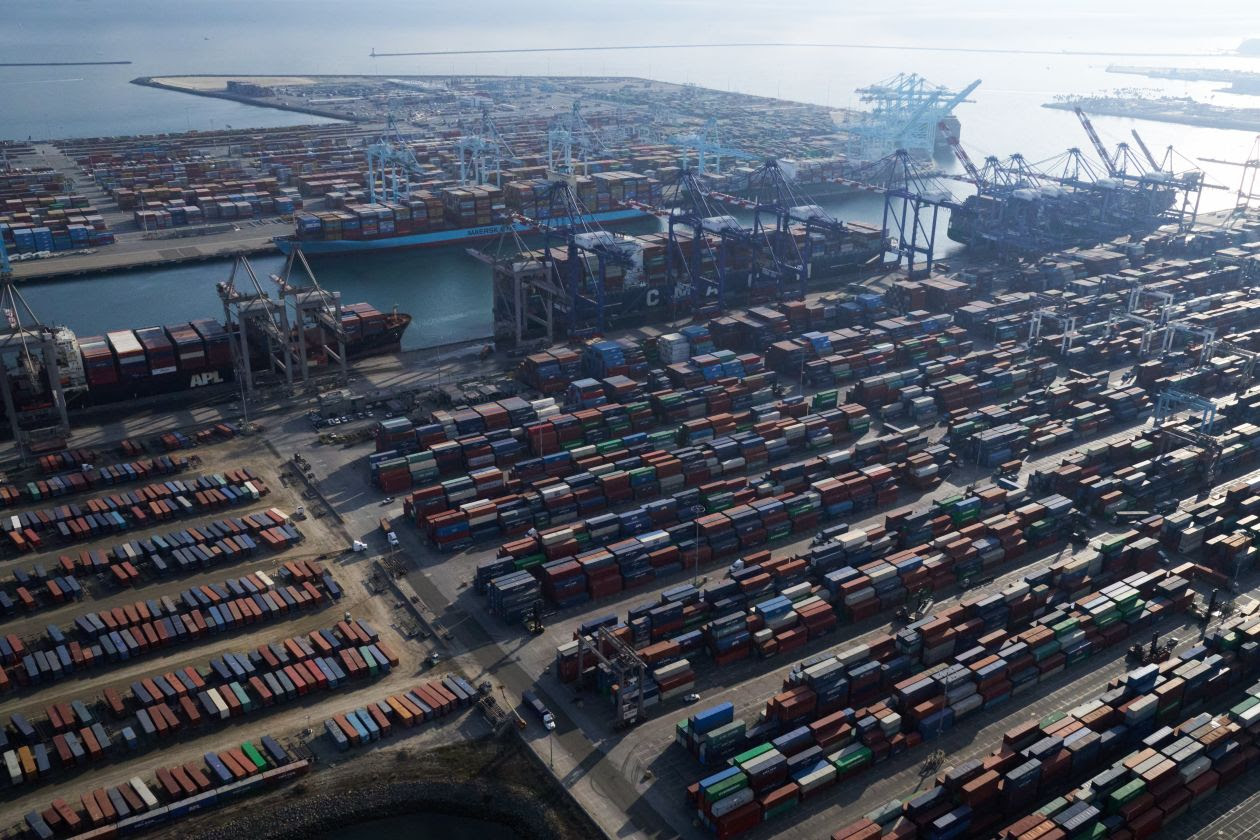 White House officials said Mr. Biden would continue publicly calling out industries that he believes are raking in large profits while raising prices for consumers, amid calls from some of Mr. Biden's outside advisers to respond aggressively to inflation to counter mounting criticism from Republicans.
Mr. Biden said Monday that he decided to nominate Jerome Powell to a second term leading the central bank because he believed he was best positioned to address the threat of inflation.
Fed officials must strike a careful balance in determining how soon to begin raising interest rates from near zero. Doing so too soon could cool the economic recovery, but an underreaction could help fuel further inflation.
Austan Goolsbee, who led the Council of Economic Advisers during the Obama administration, said supply-chain constraints would likely ease if Americans shifted spending away from goods and toward services, such as dining out. He said that would require curbing Covid-19. A shift to services could also be hampered by a lack of workers. There are millions of unfilled service-sector jobs at restaurants and stores, and wages are rising rapidly for those workers, causing some businesses to raise prices.
Mr. Biden's economic plan called for starting with short-term investments to help the country recover from Covid-19, followed by trillions in longer-term spending meant to improve U.S. infrastructure, address climate change and boost social programs.
Earlier this month, Mr. Biden signed into law a roughly $1 trillion bipartisan infrastructure bill to repair the nation's aging roads and bridges, upgrade the electrical grid and expand access to broadband internet.
The Senate is still debating the next component of Mr. Biden's legislative agenda: a roughly $2 trillion education, healthcare and climate package.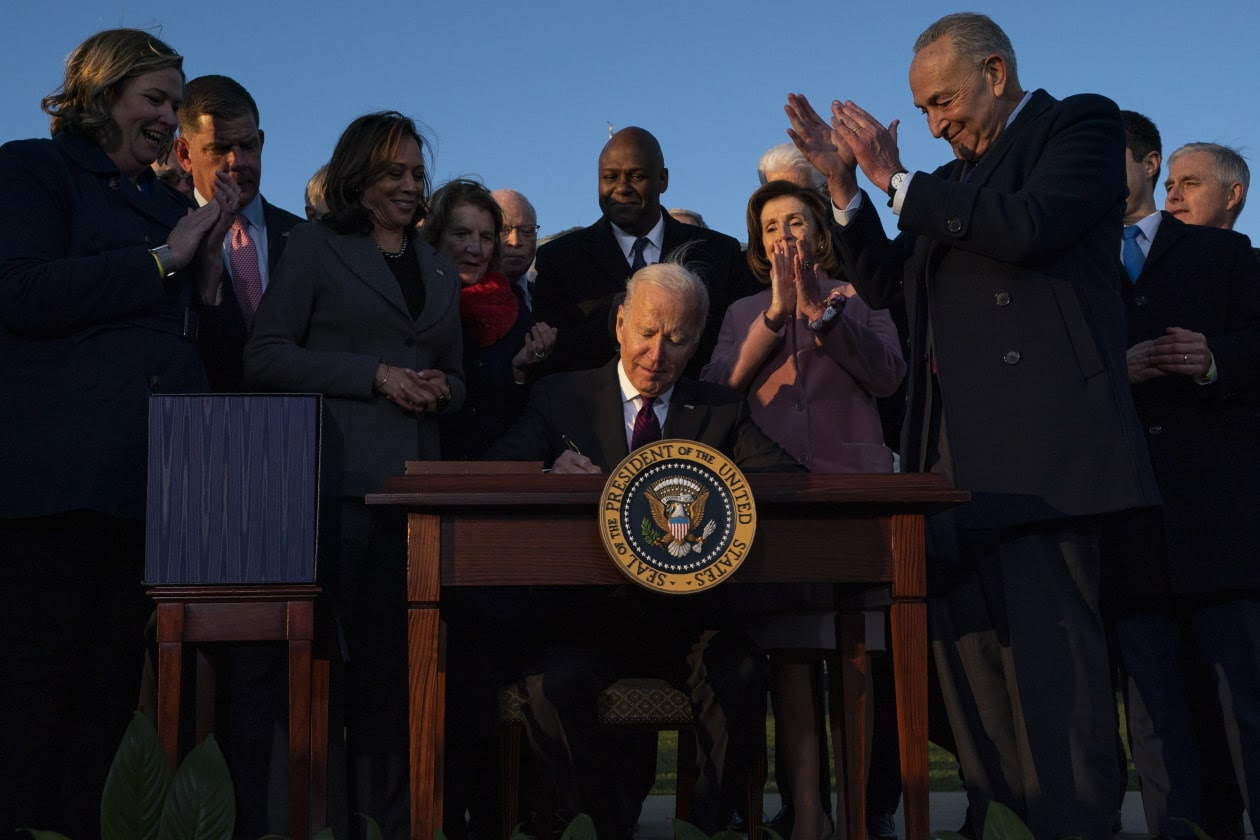 Some private economists expect the package to contribute to inflation modestly in the next year or two because the spending is front-loaded, thus boosting the deficit and stimulative impact in its early years. Republicans say Mr. Biden should pull back on his spending plans due to inflation.
White House officials say it will not further increase inflation because the money would be spent over 10 years.
In a September letter, more than a dozen recipients of the Nobel Prize for economics said the package would ease longer-term inflationary pressures.
Mr. Bivens, of the Economic Policy Institute, said the economic packages could help protect against inflationary episodes in the future by boosting the economy's capacity and productivity through improved infrastructure and other investments.
"What I appreciate in their approach is that they're not overreacting and trying to scale back their long-run plans for the economy," Mr. Bivens said of the Biden administration.
Analysis from The Wall Street Journal, selected by the editors