EDITOR'S NOTE: If sh*t rolls downhill, then it shouldn't be so hard to follow the trail upward to find the person or people responsible for administering the reek. The DOJ finally got it right with regard to JPM's manipulative practices, for what they discovered rolling downhill certainly wasn't a golden egg of executive diversion. It's not about rogue traders violating company policy. The responsibility points toward the executive level. It's not about managerial aberrance but a large-scale cultural deviation from ethical and legal norms. What's at risk here is not just the spread of C-level transgression but the integrity of the entire gold trading industry from the bullion banks to COMEX. If there's anything we can learn from the findings below, it's that, yes, the system is rigged to the core, and its rigged against you and every American in a manner that is systemically corrupt and driven by an impulse to raid your wealth.
Bombshell: The Key Word is "Executives"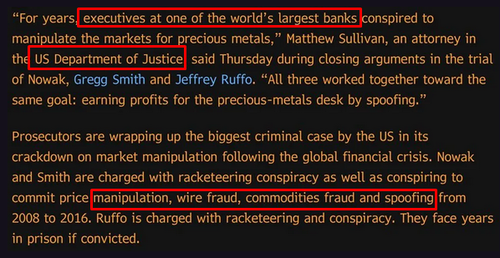 Source: Zero Hedge via Bloomberg
Closing arguments Thursday set the table for years of bank problems. It may be a very serious development. Implications are all laid out clearly in this 9 minute podcast where the DOJ has finally turned its focus on one of the institutions the US has protected for decades. Future implications are very large for bullion banks and executives everywhere. Listen: here.
One Minute Clip summarizing the situation...
Clip: Spoofing blame goes upstream pic.twitter.com/KpZeLFj3Yf

— VBL (@VlanciPictures) August 1, 2022
Bank Executives Now On The Hook
In the segment we give serious context to the Bloomberg story out late last week on the case. It implies more problems for the bullion banks and their executives down the line. Full 9 minute broadcast here
Points discussed:
US DOJ Accuses JPM Bank of manipulation now
Rogue actors not only ones anymore
Sh*t flows upstream now
Unethical culture is the problem
What it means for Executives
Jamie Dimon, Lloyd Blankfein

type

of risk
Underlings rolling over on bosses
The many problems surrounding JPM metals
How banks/ funds react to fear
Comex death, Asian birth
Something is going on (Transparency bomb?) between comex drawdowns, JPM case, recategorizing Gold derivatives,and Basel 3
Continue reading here
Originally published on Zero Hedge.