EDITOR'S NOTE: China's year-over-year unemployment rate year over year is spiking. In the same time period, its retail sales plunged to negative levels. Its industrial production and export levels are also sinking, barely hovering over negative territory. What's the big deal? As the world's biggest contributor to global growth, a slowdown in China means a slowdown in the global economy. Does this mean "significant downside risk" for the US economy as well, as JPMorgan writes in a research note? Some analysts see the current selloff in the US markets as an overreaction. But an overreaction in relation to what—a slower decline, a space for a few robust bear rallies, or the illusion of economic strength? Given the state of the US economy—a hawkish Fed, stagflation fears, and the Fed's incapacity to mitigate the external effects driving global price increases (China's lockdown economy and the Russia0Ukraine war)—the factors were currently facing make a difficult and unconvincing case for the resumption of bullishness in the market and economy. This is the stage where the "unhedged" may find very little with regard to safe exposure.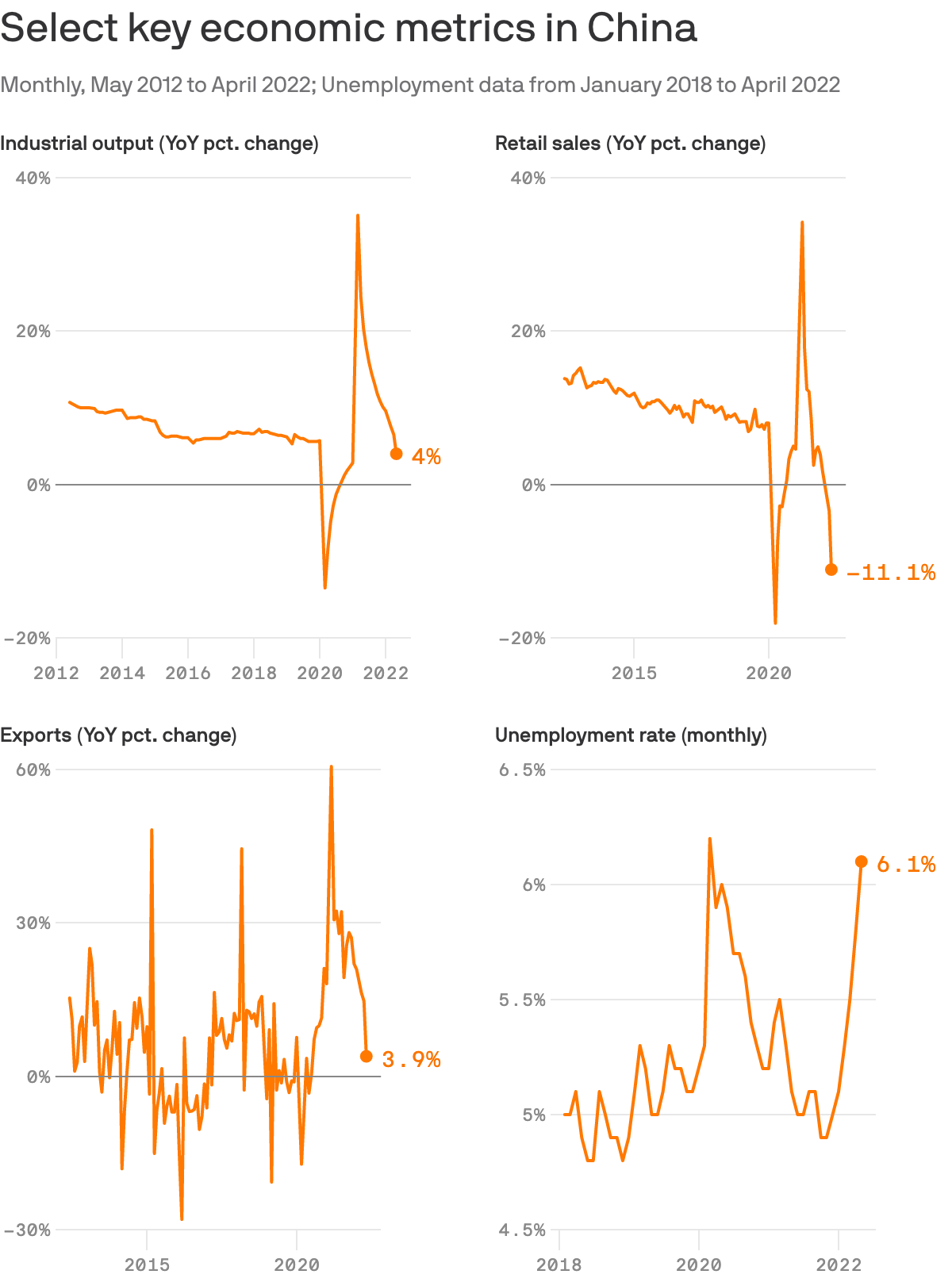 Data: FactSet; Chart: Thomas Oide/Axios
China's lockdowns continue to punish the world's second-largest economy, with a fresh round of data suggesting a worsening outlook for growth, Matt writes.
Why it matters: China is the single largest contributor to global growth, so its slowdown will ripple out in the form of lower economic activity and corporate profits worldwide.
Driving the news: New data out yesterday showed retail sales activity collapsed in April, with unemployment rising and both exports and industrial production slowing sharply.
Retail sales fell 11.1% in April, compared to the prior year, with considerable declines in major categories like restaurant spending and auto sales (a total of zero vehicles were sold in Shanghai).
China's surveyed unemployment rate rose to 6.1%, just shy of the high of 6.2% reported during the early days of the COVID outbreak in 2020.
Industrial and export activity decelerated to 4% and 3.9%, as lockdowns in key industrial hubs such as the Yangtze River delta — home to Shanghai — took their toll.
The bottom line: "The April activity data shows that the temporary disruption from the zero-COVID policy is more severe than expected, raising significant downside risk," JPMorgan analysts wrote in a research note.
Originally published by Axios.