EDITOR NOTE: Despite all its complexity, the article you're about to read poses a simple scenario. The Fed's asset purchases can't continue in perpetuity. The Fed is not following an MMT model, contrary to what its actions might say (something investors seem to "want" to believe). So, if its purchases can't keep driving Treasuries' upward momentum, then the next move must be a tapering. But if the Fed dumps these assets, then their ownership must eventually fall to households. Americans typically move to bonds as a way to hedge stock declines. But considering inflation, would most investors want to engage in an active depreciation of fixed-income payments, or might the demand for relative safe-haven assets like physical non-CUSIP gold and silver see a boost, if anything, as a hedge against the dollar that both the Fed and Treasury have put on a path of fractional yet perpetual decimation?
One look at the S&P500, which closed today at a fresh all time high well above 4,000, suggests that after a period of rangebound trading and some modest quarter-end market jitters, traders once again don't have a worry on their mind with even mega cap tech stocks ramping in recent days as concerns about reflation and higher rates are seemingly fading away.
Commenting on the market's endurance and willingness to push higher even amid higher yields, Bloomberg's Ye Xie notes that after a record services PMI, and nearly 1 million jobs added, "treasuries barely changed much over the past two days." As he notes, "that perhaps suggests a lot of bad news for bonds is in the price. After all, the markets have now priced in four rate hikes through the end of 2023, when the Fed indicated it plans to keep rates unchanged throughout." And with yields stalling, the dollar's rally seems to also be losing some momentum (ironically, just as Goldman covered its dollar short), and as the DXY index is sitting right at the 200-day moving average. As for equities, Xie notes, "yield stability allows for some breathing room as stock benchmarks hit new records."
He is right... the only question is how much longer with this yield stability persist. Because if Deutsche Bank rates strategist Steven Zang is correct, the next move higher in yields is on its way.
In a note that could sober up some of the stock market Kool-Aid drinkers, Zeng reminds us that the amount of outstanding Treasury coupon debt is increasing at a record pace, and "every quarter, the Treasury is adding more than $650bn of new debt to replace the T-bills issued last year and to support new stimulus spending."
The math is, to put it mildly, startling: even with the Fed buying substantial amounts, the amount of coupon supply left to private investors is staggering, and it will only go up more once the Fed begins to taper its purchases.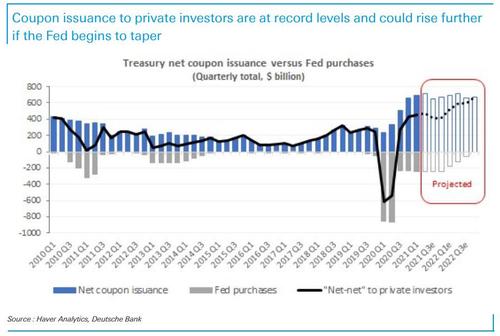 "All of that begs the question: who will buy all these Treasuries", Zeng asks rhetorically (especially since the Fed's next move is not more QE but an eventual tapering of QE). As DB recently highlighted, households have taken on an increasing role in Treasuries ownership, accounting for nearly half of total net issuance between 2017 and 2020.

The risk though, as Janet Yellen noted to Congress last week, is that too much Treasury debt owned by households (and in general) could crowd out other forms of productive investment and private spending. This means that overreliance on any one sector to buy that many Treasuries and potentially pushing beyond their natural limit could also spell trouble for the future.
Zeng then notes that the bank's model suggests that the increase in coupon issuance since last year has raised the 10y yield by about 48bp, although about 30bp of that is being offset by the Fed buying $80BN per month.
The question is what all of this comes to a head, and when does the market realize that MMT is nothing but bullshit. Zeng does not know the answer, but writes that "looking ahead, the Treasury will soon do another review of its coupon issuance sizes against the current financing needs; expect the spotlight to be on its decision in a few weeks' time."
Here's hoping they can pull out another magic money tree out of their hat... or at least a rabbit..
Original post from ZeroHedge