EDITOR NOTE: In CFRA's Outlook, published a few weeks ago, analysts forecasted a net negative return for the technology sector in 2020. Tech has had quite a run up, so one can see the argument that tech may not have the most to gain moving forward. But the article below singles out Apple as having "no net income growth." Really? Careful here. $59.69 billion in revenue (vs $52.25 billion estimated), with an EPS of $2.58 this last reporting quarter? That's a blowout. So, while the author does make a strong point...we can also tell that he didn't do his homework (or just used poor sources).
A body in motion will remain in motion.
These days Newton's first law is as applicable in physics as it is in capital markets, because despite growing concerns about a new wave of covid infections, chaos and confusion over the passage of a new stimulus wave, a V-shaped surge in projected earnings, not to mention the all too real possibility that Joe Biden will be US president in 3 months, stocks continue to move in an upward motion, unperturbed by anything, with the Nasdaq hitting its 31 new all time high of 2020 and rising above 11,000 for the first time ever on the back of the 5 FAAMG stocks but mostly the AAPL juggernaut, which despite taking a rest today on a BofA downgrade is up a staggering quarter of a trillion dollar in market cap just since its earnings report last Thursday.
And while tech bulls will pounds the table and vow that the current tech bubble is far less dangerous than the dot com bubble of 2000, the reality is that that fwd multiples are now exponential and it is only a matter of time before this particular law of Newton encounters a sufficient painful "external force" that will burst the current tech bubble too.
But don't take our word for it: here is a quick and dirty "fundamental" analysis of Apple from Ben Mackovak:
"It's essentially the same story. $AAPL enterprise value +90% over past 2 yrs despite no net income growth. 100% driven by multiple expansion, which I think is driven by Fed policy. When the Fed Funds rate was 2.4% in 2019, AAPL had a PE of 15x. Today Apple PE ratio is 32x."
Of course none of this matters, as the generic argument one hears from the permabulls is a familiar one: as long as real interest rates continue to sink - and 10Y TIPS just hit a record low negative 1.07% - equity investors have no choice but to buy.
Which is absolutely correct... however it now appears that equity investors have a choice of what to buy, and in lately they have been buying a lot of gold, whose inverse correlation with real rates is effectively 1:1.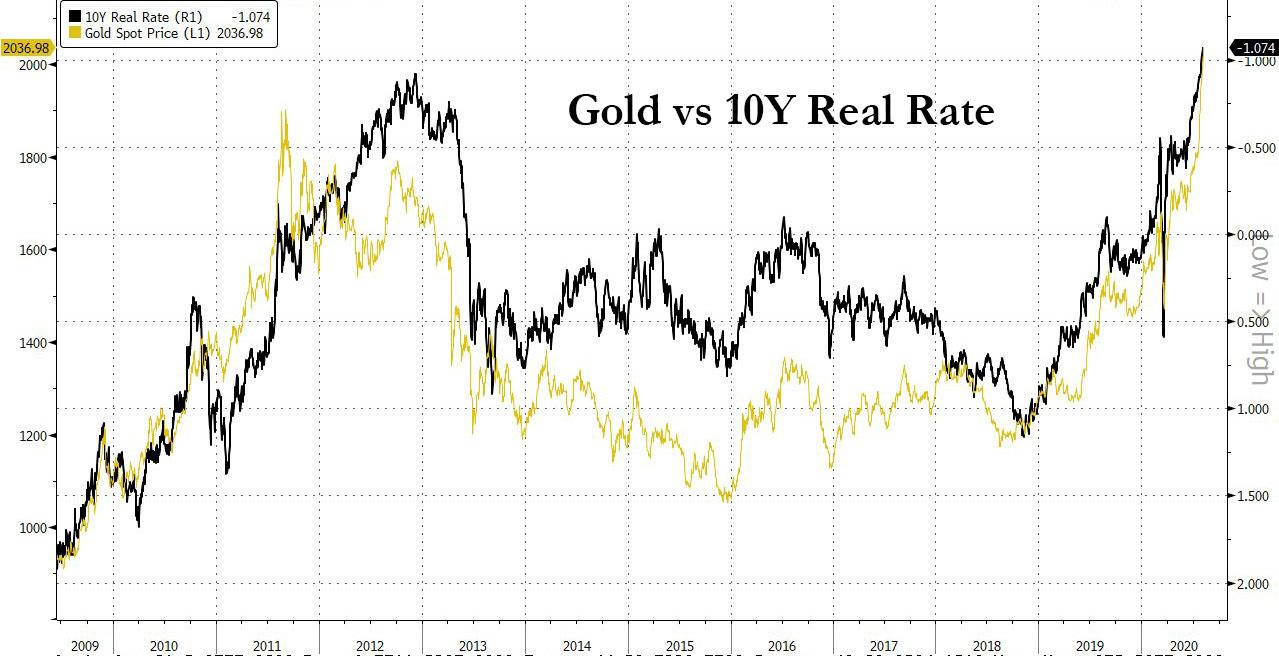 And with gold surging on Tuesday, blasting above $2000 and hitting a new all time high earlier today, increasingly more investors are turning their attention to silver, which just hit $27/oz...
... and which according to BofA, is set to double from here to $50 "in the short term." More importantly, it increasingly appears that the biggest market moving force of today's batshit insane market, the Robinhood army, is getting on board with both gold and silver...
... which very soon will be in the top 10, then top 5 of most popular daily names traded on the retail platform, at which point watch out above (and get read to sell). Of course, once we go vertical in gold, that's when the Fed will have no choice but to crash everything as that's the kind of meltup in investor conviction that everything is about to collapse that keeps central bankers up at night.
One place where Newton's First law was not in full force today was in the rates market, where after hitting an all time low of just above 0.50% overnight, the 10Y yield backed up by 4bps, and the 30Y rose just above 1.20%...
... although as Rabobank's Michael Every notes, even at this rate, the 30Y bond is pricing in no more than 4 rate hikes over the course of the next generation!
Another place where Newton got a bit of a break was in the S&P500, which is now just 2% below its all time high, and finding some modest resistance in the  3,328 level, which marks the top of the gap that opened on Feb. 24. As Bloomberg's Andrew Cinko reminds us, that was the day may when stocks dropped as much as 4%, the Dow sank over 1,000 points and the VIX skyrocketed as it became clear the coronavirus was going to circle the globe.
Also it is worth noting that today is another of those days when all the gains came overnight, with the index unchanged for the duration of the day session.
One final point, and perhaps the explanation for all of the above - the devastation of the dollar continued apace, with the BBDXY sliding sharply as traders frontrun what now appear to be trillions in fiscal stimulus coming from US congress in 2020 and coming years.
Originally posted on ZeroHedge