EDITOR NOTE: There's a well-known saying you've probably heard plenty of times before: Time in the markets is more important to successful investing than timing the markets. Market timers serve as an important indicator. They go about the markets so erroneously and with such consistency that taking a contrarian position virtually guarantees investment success. When retail gold ETF investors begin trampling each other to get to the exits, that's when you should be holding steady or accumulating more. Right now, inflation happens to be accelerating. But when it's not, inflation is still moving higher yet in a slow and steady manner. Silver is a monetary metal. When its value as a monetary hedge decreases in demand, its industrial attributes kick in. And in light of the new "green energy" agenda, one to be pursued by several countries across the globe, silver's relevance in application and new tech development may push tight supply toward supply deficit in the coming years. When it comes to investing in physical precious metals, you're either seeking a combination of capital preservation and growth, or you're trying to outsmart the market in pursuit of short-term profits and (just admit it)...thrills. There's no point in outsmarting an already "smart" market position.
Don't be surprised if gold GC00, -0.07% begins to rally. The reason being that in the wake of gold's plunge last week, gold market-timers quickly turned bearish. That's a positive sign, according to contrarian analysis.
The gold timers' bearish turn represents a big shift in sentiment. On a number of occasions prior to last week, gold timers were excessively bullish. This meant that gold's path of least resistance was down.
Many missed this contrarian backdrop to last week's plunge, since there was a more immediate culprit: The announcement from the Federal Reserve's rate-setting committee that it might raise interest rates sooner than previously anticipated. Yet, from a contrarian perspective, the Fed's announcement was little more than the straw that broke the camel's back.
Consider the Hulbert Gold Newsletter Sentiment Index (HGNSI), which reflects the average recommended gold market exposure level among a subset of several dozen short-term gold timers. This average now stands at minus 9.7%, which means that the typical short-term gold timer is allocating about 10% of his gold trading portfolio to going short — a bet that gold will continue to decline. That puts the HGNSI at the 14th percentile in a distribution of all readings since 2000.
As recently as just a couple of weeks ago, as you can see from the chart below, the HGNSI stood at just shy of the 90th percentile of that distribution. That 90th percentile is the threshold that some contrarians use to define the zone of excessive optimism. That's why, prior to last week's Fed meeting, the sentiment winds were already blowing in the direction of lower prices (as I alerted you in a May 9 column).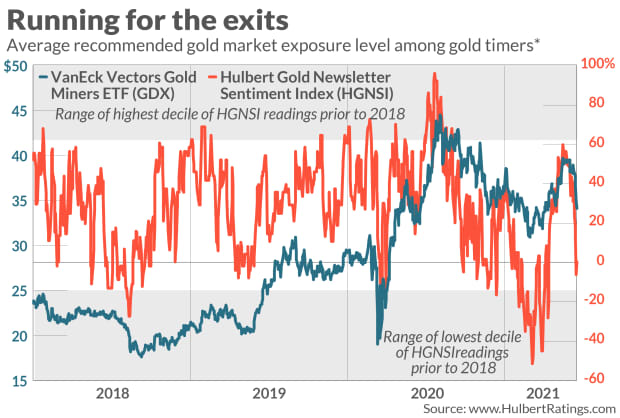 Since then, however, the HGNSI has moved from close to the 90th percentile of the distribution to the 14th. Some may consider that already to be a big enough drop to support a rally; other contrarians may insist on waiting until it drops into the bottom decile — the threshold for which is minus 14.8%. Depending on gold's action this week, that could happen within a matter of days.
Regardless, the key to the extent and duration of gold's subsequent rally will be a function of how quickly the gold timers turn bullish. If they quickly jump on the bullish bandwagon, then the rally will most likely fizzle out relatively quickly. If instead they stubbornly remain bearish as that rally gains steam, then it has the potential for lasting longer and rising further.
Original post from MarketWatch