EDITOR'S NOTE: If you follow the Industrial Production reports, you're probably aware that its two parts—industrial production and capacity utilization—tell you how much output the country is producing and what the potential output is as a percentage of its total production infrastructure (factories and mines). According to the latest report, US industrial production plunged far below expectations. Is the production's descent angled in such a way that would allow for a soft landing, or is its momentum coming in too heavy, enough to crater the entire US economy?
US Industrial Production was expected to decline for the third straight month in December and it did, tumbling 0.7% MoM (and November's 0.2% decline was revised down to a 0.6% drop)...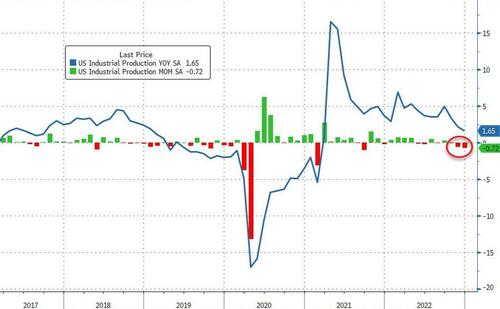 Source: Bloomberg
That lowered the YoY gain in industrial production to just 1.65%, the lowest since March 2021.
Under the hood, everything was red except utilities "as cold temperatures boosted the demand for heating"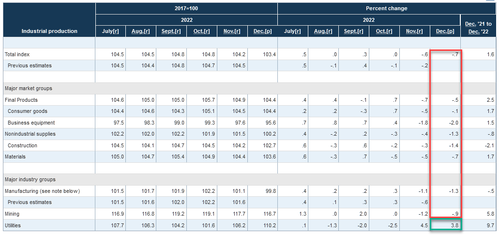 Source: ZeroHedge
Focusing in on manufacturing production, the picture was even worse with a 1.3% MoM tumble (2nd straight monthly decline) which pulled Manufacturing lower on a YoY basis (-0.5%) for the first time since Feb 2021...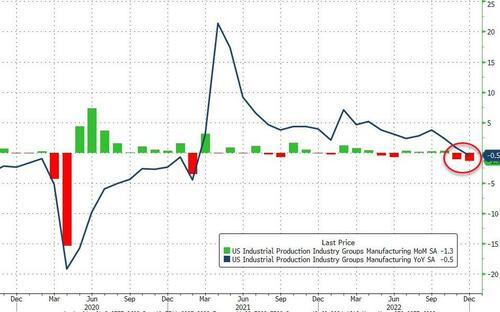 Source: Bloomberg
For context, the last 3 months have seen a 1.33% drop in US industrial production, absent COVID lockdowns that is the biggest 3-month decline since Dec 2015...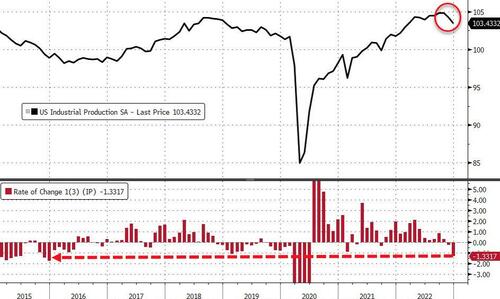 Source: Bloomberg
Capacity Utilization plunged more than expected to 78.7% (79.5% exp)...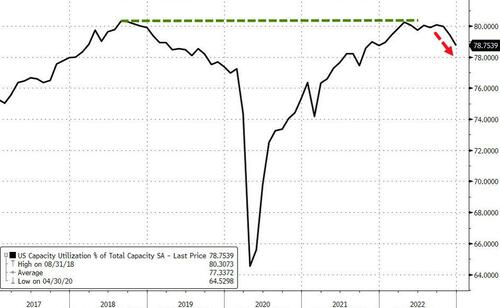 Source: Bloomberg
Does any of that look like a soft landing?
Originally published by Tyler Durden at ZeroHedge