EDITOR NOTE: Housing prices rose to record highs as lumber and commodity costs, low inventory, and slow production went head-on against an onslaught in demand. So, is the slowdown in home sales coupled with a decline in building permits an example of the market self-reflexively negotiating a form of equilibrium? It depends. Sometimes the market is able to rebalance itself in that manner. Other times, as what had happened during the temporary lull in purchases and prices in the Weimar of 1919, it's the short-term respite before the storm. There's still plenty of money in the financial system and very little velocity to cause significant price increases. Yet without that velocity, we're already seeing a record surge in the price of goods--a momentous increase that hasn't been matched since the early 1980s. What's to happen once everybody begins spending their money?
Amid a slew of weak housing sales data, weak mortgage applications, crashing homebuyer sentiment, and 11-month low homebuilder sentiment, analysts still expected both housing starts and permits to rise MoM in June... they were half right!
After a small downward revision in May, Housing Starts soared 6.3% MoM in June (massively beating expectations of +1.2% MoM), but... Building Permits, which are forward-looking of course, saw a third straight month of declines, plunging 5.1% MoM (far worse than the +0.7% MoM expected)...
This pushed the Permits SAAR below Starts for the first time since Jan 2020, and to its weakest since Oct 2020...
Under the hood, Single Family Starts rose 6.3% SAAR to 1.160MM, the highest since March, and Multi Family (rentals) Starts were up 6.8% to 474K, highest since July 2020...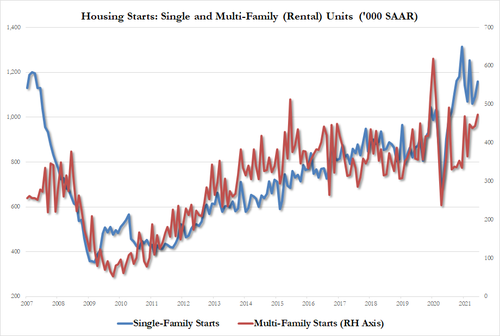 But Permits were far more ugly, with Single Family Permits down 6.3% to 1.063MM SAAR, lowest since August 2020; and Multi Family Permits down 1.6% to 483K SAAR, lowest since Dec 2020.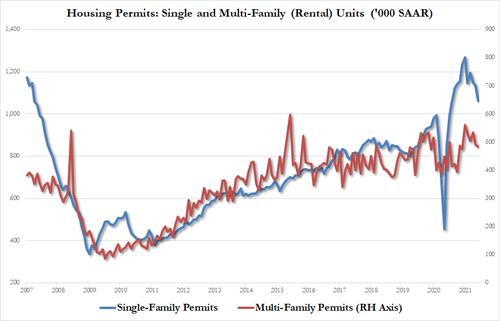 This is not a pretty picture for the future.
Exorbitant materials costs, combined with shortages of land and labor, have thwarted developers seeking to ramp up construction. Supply concerns and a slowdown in sales pushed builder confidence down to an 11-month low in July, a survey from the National Association of Home Builders showed Monday.
An inventory crunch that followed solid demand last year has sent prices soaring, tempering buyer interest. A record 71% of consumers said higher prices were a reason why buying conditions have soured, according to July data from the University of Michigan.
Original post from Zero Hedge