EDITOR'S NOTE: If you're an investor who purchases gold using a "paper financial instrument" rather than taking ownership of the physical metal, how can you be certain that you actually own it? How can you even verify that the fund through which you bought your gold has procured it? It's no secret that many institutional traders buy and sell gold using derivatives like futures and other paper instruments. And similar to fractional banking, derivatives allow bullion banks to issue more "gold" than what's available in stock. So, what would happen if a major global event prompted all investors to claim the gold they supposedly own? It would be like a massive bank run, except the gold would run out before everyone's claims of ownership were matched with actual metal. To add more clarity and transparency to the gold industry, the World Gold Council (WGC) and the London Bullion Market Association (LBMA) are working toward developing an international system that would bring gold bar integrity to the precious metals industry. The Gold Bar Integrity Programme is a blockchain ledger system that would track the chain of custody and provenance for all gold bar transactions. Fully transparent, secure from tampering, and irreversible, the history of all gold bar transactions would enhance integrity and market confidence in industry transactions. The only question is how private this blockchain system might be and who might be privy to the identity of its users.
London Bullion Market Association and World Gold Council announce the launch of the Gold Bar Integrity Programme
London Bullion Market Association (LBMA) and the World Gold Council (WGC) are collaborating to develop and implement an international system of gold bar integrity, chain of custody and provenance. Over time, this will help consumers, investors, and market participants to trust that their gold is genuine and has been responsibly and sustainably sourced.
To deliver this industry-wide and ground-breaking development for the market, LBMA and WGC have brought together representatives from the global gold supply chain to launch a pilot phase of the project.
This initial phase will see two distributed ledger companies (aXedras and Peer Ledger) demonstrate how their technology can best deliver a global ecosystem that will create an immutable record of a gold bar's place of origin and chain of custody. This blockchain-backed ledger will register and track bars, capturing the provenance and full transaction history.
Over time, the plan is to encourage all major participants in the gold industry to adopt this technology, and add to the global ecosystem, so that all gold bars are registered and tracked across the entire supply journey from mine to vault, and ultimately to end consumers such as jewellery manufacturers. This will effectively digitise the global supply chain of gold bars.
The Gold Bar Integrity Programme supports greater industry alignment to ensure the future growth of the international gold market.
Source: World Gold Council
Gold Bar Integrity Announcement by David Tait, CEO World Gold Council & Ruth Crowell, Chief Executive, LBMA.
Ruth Crowell, Chief Executive Officer, LBMA commented:
"The international trade in wholesale, physical gold depends on confidence. The initiative announced today underlines the confidence that all participants in the market can have in the integrity and accountability of the gold they trade, and the gold they buy. This is a major advance in furthering transparency for the common good of the gold industry."
David Tait, Chief Executive Officer, World Gold Council commented:
"This transformative project is the first step towards a more aligned gold industry, where we work together to ensure a more accessible and transparent market. Consumers and investors want to know their gold has been responsibly and sustainably produced and tracing the origin of gold bars will help enforce the highest standards across the entire supply chain. At the World Gold Council we are committed to addressing barriers to investment such as trust and provenance as this is key to unlocking increased demand for gold."
Jin Chang, Managing Director and Global Head of Metals, CME Group commented:
"We welcome the introduction of the Gold Bar Integrity Programme, which will help further strengthen the integrity of the physical gold industry, as well as its investment and trading communities. We are committed to helping our clients navigate the evolution towards a more sustainable future, and these initiatives help provide more clarity to the industry and our clients around how their sustainability goals are being met."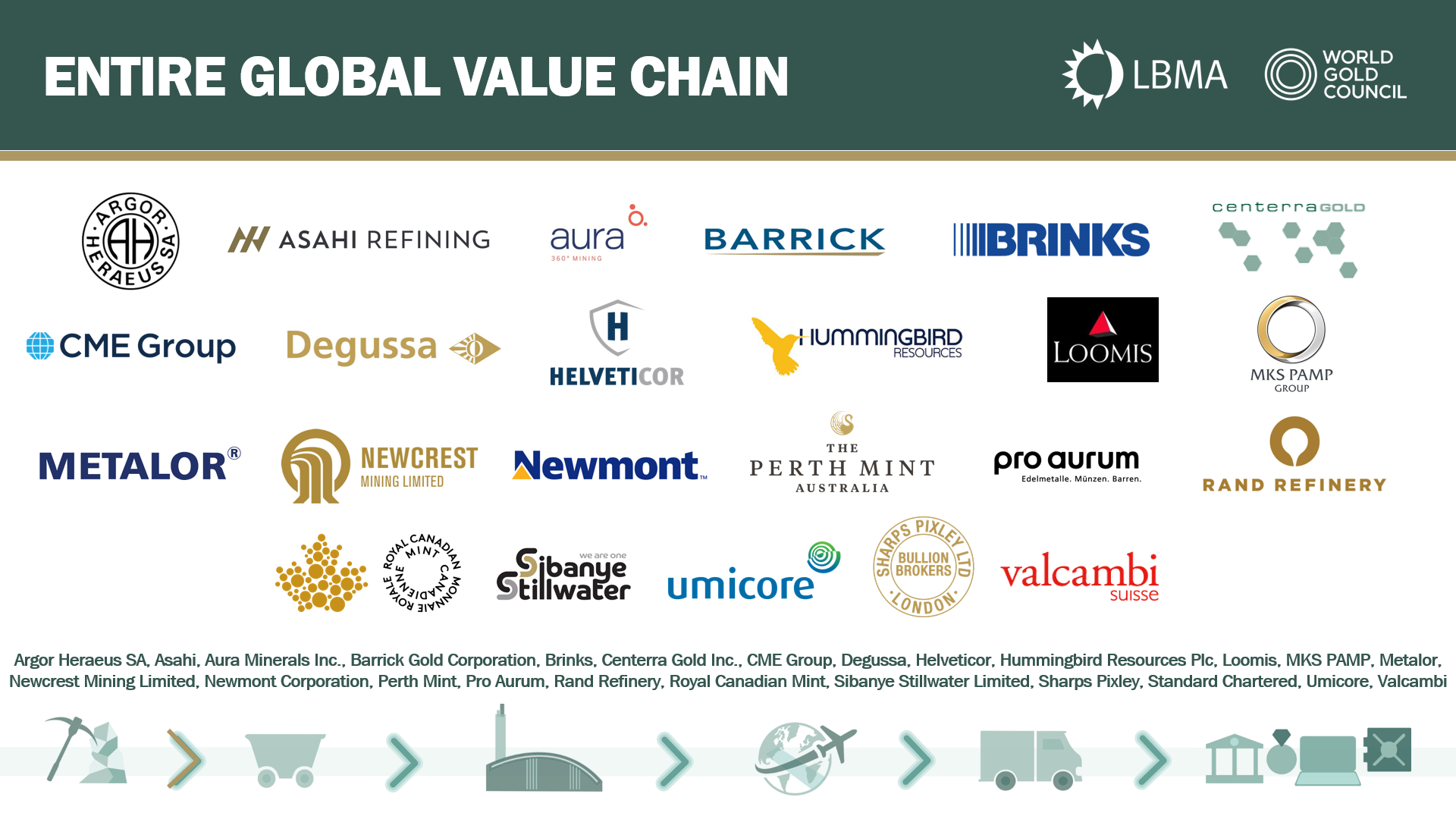 Source: World Gold Council