EDITOR'S NOTE: Fifty years after Nixon uncoupled the U.S. dollar from gold, the Fed is having another "Bretton Woods moment." Bloomberg's John Authers writes that just like five decades ago, the Fed is facing a crisis because "the world's central banks have succeeded too well for their own good." Central bank's QE policies have kept the markets afloat during the pandemic but now, with inflation rising at a rate not seen since the rebuke of the gold standard, the Fed may have to quickly raise interest rates, and the markets are responding poorly. Data shows that "a sequence of bond markets have turned on their central banks," and the stock market could follow suit. After years of bull markets, an inevitable and severe downturn looks like it could be close.
Markets are losing trust that central banks will stay dovish. That's a test for U.S. policy makers and recalls the breakdown of the Bretton Woods system.
Be Careful What You Wish For (Central Banking Edition)
Maybe the world's central banks have succeeded too well for their own good. For months since the crisis, the story has been about central banks trying to persuade anyone who will listen that they are doves who are determined to err on the side of accommodating growth, even at the expense of rising prices, and markets flatly disbelieving that they can ever get inflation up. In October, the script turned on its head. Now, central banks are trying to stay dovish, while markets are betting they will be obliged to jump for rate hikes, such is the pressure from inflation.
The story, as ever, centers on the U.S. where this week the Federal Open Market Committee holds a meeting and will almost certainly announce plans to taper its bond purchases, at a rapid clip. We can also look forward to ISM supply manager surveys from across the globe and, on Friday, the latest data on an increasingly fraught U.S. labor market. But it's important to stress that this isn't just about the Fed and the U.S. This is a global shift, where other Anglo-Saxon economies have seen the most radical reactions, notably Australia and Canada.
Global shifts in the same direction on a scale like this are rare. George Saravelos, currency strategist at Deutsche Bank AG, goes so far as to compare what is happening to a "Bretton Woods moment." Just as 50 years ago, markets lost their trust that global currencies would stay tied to gold, so now they have lost their faith, more or less in unison, that central banks will be as lenient as they say:
The last few days will go down in history as a pivotal moment for central bank policy making. One after another, central bank communication is being challenged and successfully unraveled by the market. To be sure, there are plenty of examples where this has happened to individual central banks in the past. But the rolling and global nature of the current "attack" and the eventual policymaker validation of market pricing is unprecedented.

We have to go back to the collapse of the Bretton Woods system to find a similar analogy; only instead of exchange rates this time it is an unravelling of central bank forward guidance on rates and QE. Just like the Nixon shock of 1971 this is being driven by inflation: it started off with the sharp hawkish turns by Brazil, Russia, Hungary in the summer months, to be followed by Poland, Chile, Colombia and other central banks in EM. In developed markets it kicked off with the Bank of England a few weeks ago and now broadening out with Canada suspending QE earlier this week, [European Central Bank] President [Christine] Lagarde providing a weak defence of ECB forward guidance... and the RBA failing to protect its yield curve control target 
Having established that the stakes are high, let's look at the reasons why the market has changed its mind.
The Data:
Friday brought the latest PCE deflator numbers from the U.S. Based on a changing basket of what people are buying, so that it captures shifts in spending as certain products grow too expensive, the PCE tends to offer a lower estimate than the consumer price index, and it is the Fed's favorite inflation indicator. At first sight, it's maybe not that alarming. Year-on-year inflation is its highest in three decades, but only barely edged up, while the month-on-month number is falling: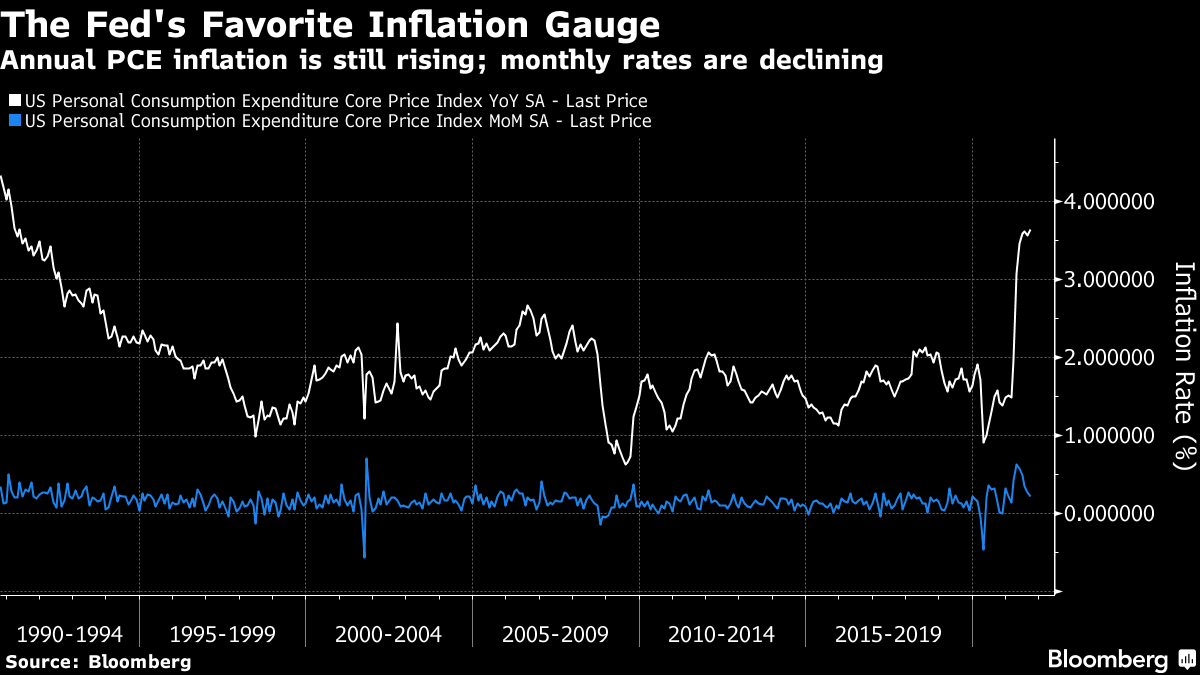 However, there is more to the story than this. As is well known, inflation in the last few months has had an outsize and doubtless transitory push from a few sectors on which the pandemic had a big impact, such as used cars. This led to greater interest in "trimmed-mean" measures, which economists have always regarded as a good measure of core inflation. These involve subtracting the biggest outliers in either direction and taking the average of the rest. The Dallas Fed keeps a trimmed-mean index of the PCE deflator, which until recently had suggested there was little or no reason for alarm. That has now emphatically changed. The following chart shows trimmed-mean PCE inflation, at an annualized rate judged over one month, six months, and 12 months, going back to 1980: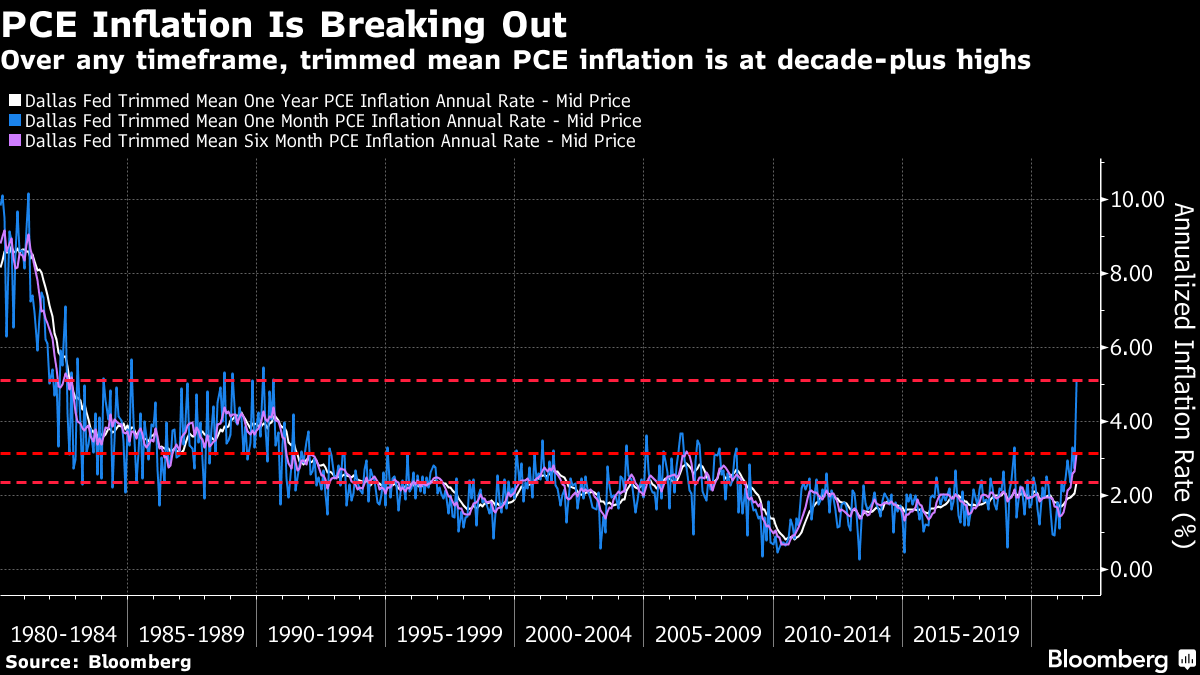 I tried to make things easier with the horizontal lines. In a nutshell, 12-month inflation still isn't so bad, but it is the highest since 2008. Inflation over the last six months has run at a rate seen in only one month since the early 1990s, and over the last month it has shot up the most in 31 years. It is still far below the rates at the turn of the 1980s before the Volcker Fed got prices under control. But this looks like overpowering evidence that the low-inflation paradigm of the post-crisis decade has at last ended (a consummation devoutly wished by many). Just as had been feared, the initial price shocks after the pandemic are being followed by a significant broadening of inflationary pressure.
Friday also saw new data on employment costs. The quarter-on-quarter reading is by far the highest since the series began in the 1990s. This is how it has moved over the last 20 years: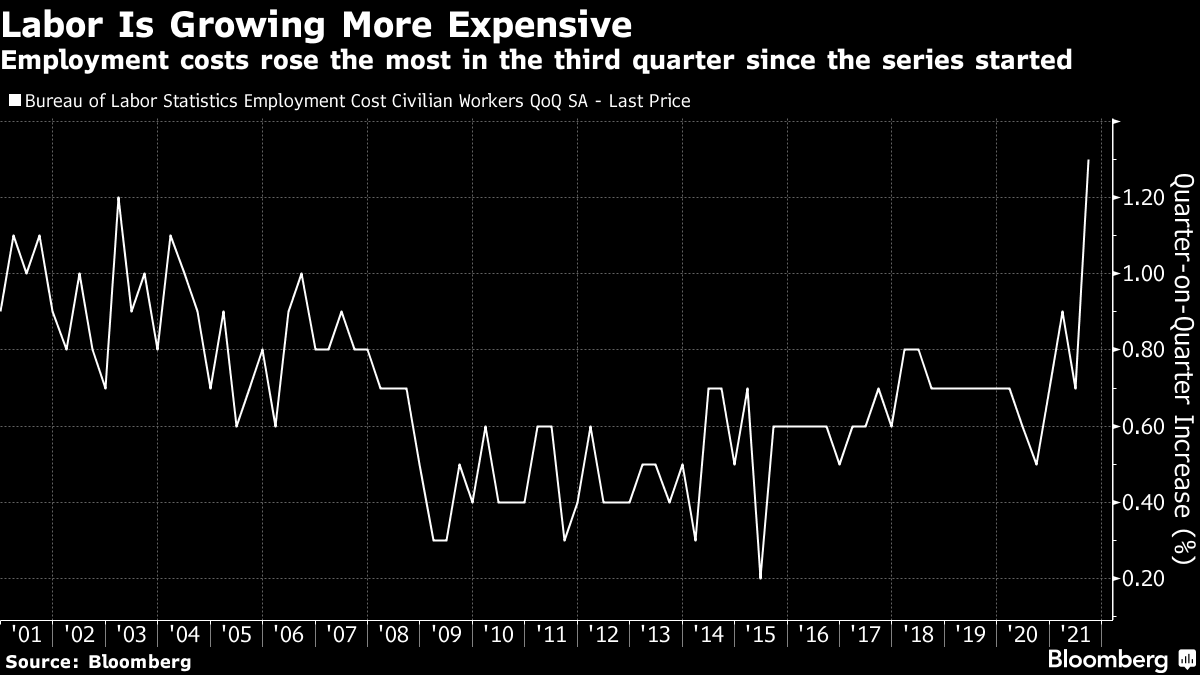 The reasonable fear at the beginning of this year was that the inflation shock would lead to higher salary demands, thus potentially starting a wage-price spiral. This is nothing like the 1970s yet: Back in 1975, U.K. teachers' unions accepted a 27% pay increase, for example, and found it barely covered inflation of 26%. But the mechanics of the market are shifting.
Friday also brought new inflation expectations data from the University of Michigan. The bad news is that consumer predictions for the next 12 months (which are almost always too high) continue to rise, albeit at a slower rate: 
The better news is that expectations for the next 5-10 years, while rising, are still only where they were in 2015. They remain well within the low range of the past quarter-century:  
So the data now point unambiguously to an underlying inflation rate slightly but significantly above the norm of the last decade, and to a clear, if still not great, risk that this will intensify. If central banks remain accommodative through until the end of next year, as previously advertised, these trends could easily strengthen into an inflation rate that would require much more aggressive monetary policy to extinguish. Hence, the market has made its new bets:
The Markets
Not all central banks or economies are the same. But a sequence of bond markets have turned on their central banks. The following chart, produced by my colleague Garfield Reynolds, shows what is happening on a global basis. As inflation numbers have continued to surprise to the upside, developed-market banks have left target rates on the floor, and market-derived expected interest rates have sharply risen:
Most spectacularly last week, traders bet that the Reserve Bank of Australia, which has long targeted keeping three-year bonds, due in April 2024, to a yield of only 0.1%, would have to abandon a policy in place since March last year. On Friday, the bank gave up intervening to keep the yield close to its target, with dramatic results:
While emerging-market central banks have already started hiking, pressure to move soon is common to monetary authorities in smaller developed markets like the U.K., Canada and Australia. All have been forced to acknowledge a change in their plans, and all have seen a sharp flattening in their yield curves in recent days:
The yield curve, popular shorthand for the spread between two-year and 10-year bond yields, offers the purest way to look at what is happening. In China and Japan, where governments have long intervened in bond markets in their different ways, yield curves that were already quite horizontal have slightly flattened in recent weeks. This implies slow growth, but not necessarily much inflation. In this, they remain an exception to the global rule.
The pattern for the euro zone and the Fed has been very different. This is how the yield curves for Treasuries and German bunds have moved over the last five years:
A steepening in the curve implies a belief in longer-term expansion, which will need higher rates to contain a stronger economy. When the curve flattens, it implies that rates will rise in the short term, and this will crimp growth in the longer term. In the U.S., an emphatic steepening coming out of the Covid shutdown implied great belief in reflation, coupled with trust that the Fed meant what it said when it promised to err on the side of letting inflation rise. There has never been any such steepening in the euro zone, where investors are far more dubious about the prospects for reflation. 
The ECB has a legacy of hawkish errors, in 2008 (when it hiked on the eve of the credit crisis) and 2011 (when it raised as the sovereign debt crisis was deepening). It also has to contend with far stronger opposition to inflation in Germany (because of memories of the Weimar hyperinflation), where recent readings have increased sharply. So it's easy to see why markets began to bet that the ECB would back off from its dovish stance. But Europe's economy looks far weaker than that of the U.S., and the region would benefit from a competitive currency for exports, particularly from Germany.
Follow the moneyFind out how once-illegal drugs like marijuana and psychedelics are becoming big business with The Dose, a weekly newsletter.
Sign up to this newsletter
That 2008 policy mistake contributed to massive dislocations in global markets on the eve of the Lehman Brothers bankruptcy, so it's understandable that Lagarde tried to push back at questions suggesting the ECB would need to follow the Fed in scaling back asset purchases. Not everyone seems to have found her protests convincing. German 10-year inflation breakevens, after a startling rise to almost 2% over the last two months, have reversed since she spoke:
We can take that as a message that the market now thinks higher rates are on the way faster than Lagarde wants, no matter her protests that "comparisons are odious" between the very differently positioned economies of the EU and the U.S. 
All is now positioned for a trying two days for the FOMC. Inflation plainly isn't transitory. It's also plainly being driven by several supply factors totally beyond central banks' control. For now, Chairman Jerome Powell and his colleagues might be happy to avoid a repeat of anything as drastic as Nixon's exit from Bretton Woods. 
And the Stock Market?
Despite all this excitement in bonds, equities are as yet barely affected. The S&P 500 reached the weekend at an all-time high. It's the earnings, stupid. With the third-quarter reporting season now mostly over, there have been few nasty surprises. Earnings are staying strong, albeit in large part because companies seem comfortable they can pass higher prices on to customers.
However, the enthusiasm may be a little shortsighted. As BofA Securities Inc.'s Savita Subramanian demonstrates, Wall Street has caught up with the rise in profits after the pandemic, and expectations for the current quarter and next year have stopped increasing:
Meanwhile, when Subramanian crunched what executives were saying on earnings calls, the rising preoccupation with bottlenecks, labor costs and inflation was extraordinary: 
How can we tie the ongoing equity market enthusiasm together with the obvious alarm in bond markets? Larry McDonald argues persuasively as follows in Bear Traps Report:
What we have here, ladies and gentlemen, is a consumer buying panic. We lived through this movie before in the 1970s and early 1980s. It isn't pretty. The buying panic creates an inflationary nightmare for short-term Treasuries. It also creates great short-term earnings. So short-term rates spike and companies with positive guidance rally. BUT eventually the economy collapses (longer rate yield inversion) and stocks get crushed
That's a good summation. 
Survival Tips
I have a podcast recommendation, and it's a good one. I've long been a fan of Jill Lepore, the Harvard historian who also writes for the New Yorker and makes podcasts. Her latest project goes live in the U.S. today; it's called Elon Musk: The Evening Rocket, and turns an extremely skeptical eye on Musk and all the excitement that surrounds him. Last week I got to listen to the entire five-episode series, and immediately afterward talked to Lepore herself. Even if you give yourself a less concentrated version of her series, it will raise a lot of thoughts and very relevant issues. You can read my review of it  here. I strongly recommend giving it a listen.
Have a good week everyone. 
This column does not necessarily reflect the opinion of the editorial board or Bloomberg LP and its owners.
To contact the author of this story:
John Authers at jauthers@bloomberg.net
To contact the editor responsible for this story:
Matthew Brooker at mbrooker1@bloomberg.net
Originally posted on Bloomberg.