EDITOR'S NOTE: Why isn't silver doing as well as many predicted this year? Investing.com's Korbinian Koller writes that it's because you're looking at it wrong. Koller notes that a year is an arbitrary period that we use to look at things because that's what we're used to. If you look at silver in the last 20 months, though, it's doubled in price, which is incredible. Also, he says that rising price trends in precious metals like silver are just that, trends. As such, they take time to develop, and we are just at the beginning of a long-term bull trend for silver, so patience is needed. Finally, even with inflation, gold needs to move first, Koller writes before silver jumps. The good news is that, by analyzing the data, a major jump for both gold and silver is on its way. If Koller's right, now could be a great time for everyday investors to pick up non-Fungible gold and silver. 
There is much talk about why silver hasn't performed this year. What is overlooked is that the time increment of a year is random. Looking over the last 20 months, silver had a stunning performance. It more than doubled in price to where it is trading now. How often does that happen in precious metals? 
Here is what you should consider when asking why it isn't trading even higher. First, after an initial up-leg like this, a trend is set in motion, but it is just the beginning of a trend. It needs time to develop. Most of the reasons debated this year when silver stepped into the limelight were the reasons the traders anticipated fueling the first leg.
A big part is that it takes time until the public digests the market, which is ahead of reality, a speculative prognosis on how the future might look. There is a trickle-down affect until silver can build up its second leg. From an active market speculator perspective, inflation is real, but years can pass until the crowd realizes what is going on. Then gold needs to move, which in turn awakens silver with a delay.
Gold monthly chart - bull as bull can be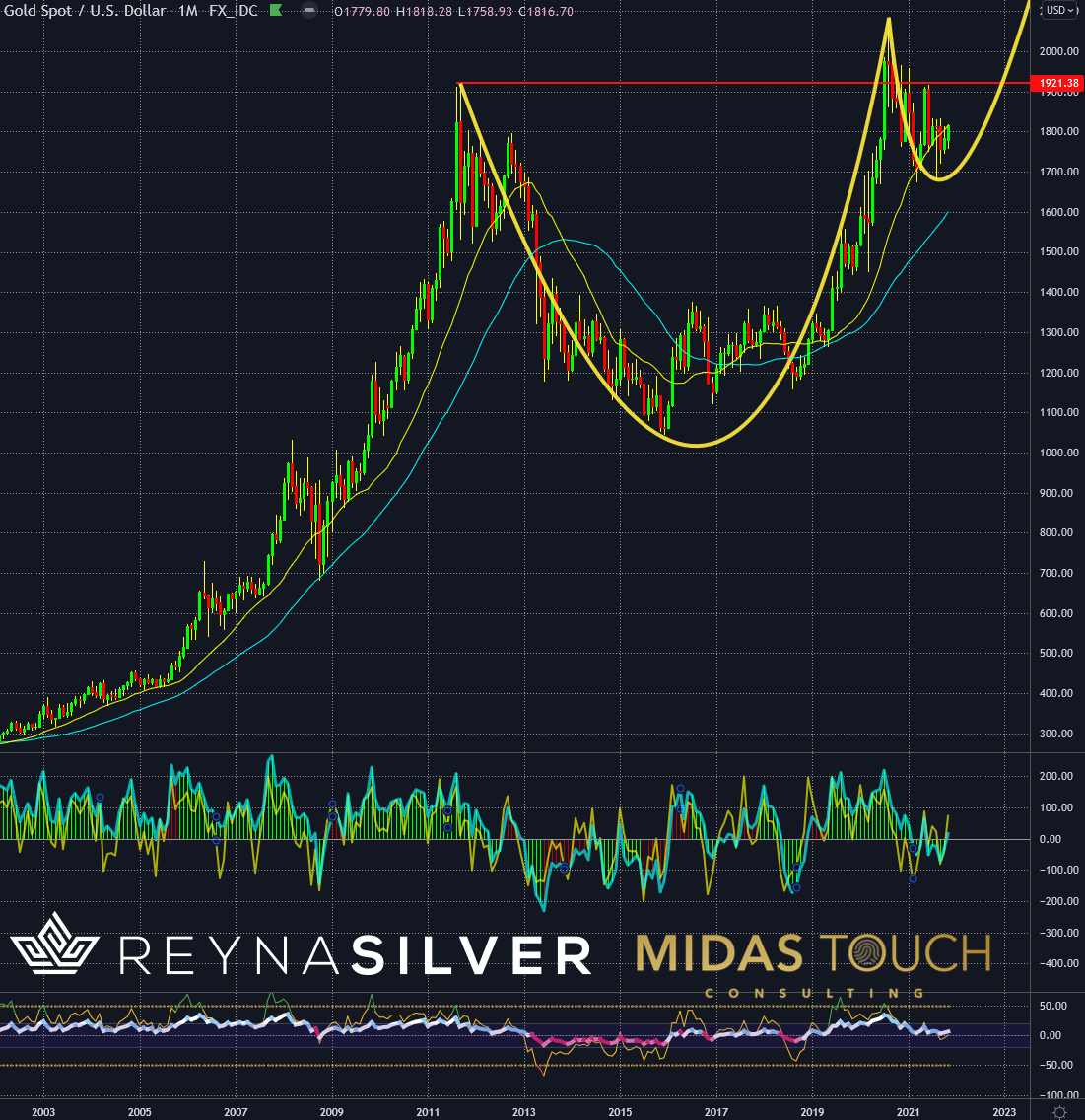 Gold Monthly Chart As Of Nov. 5, 2021
The monthly gold chart above shows the strong bullish trend in gold over the last 20 years. Telltales are a higher high in 2020 versus 2011, and the price strength since.
Gold weekly chart - getting ready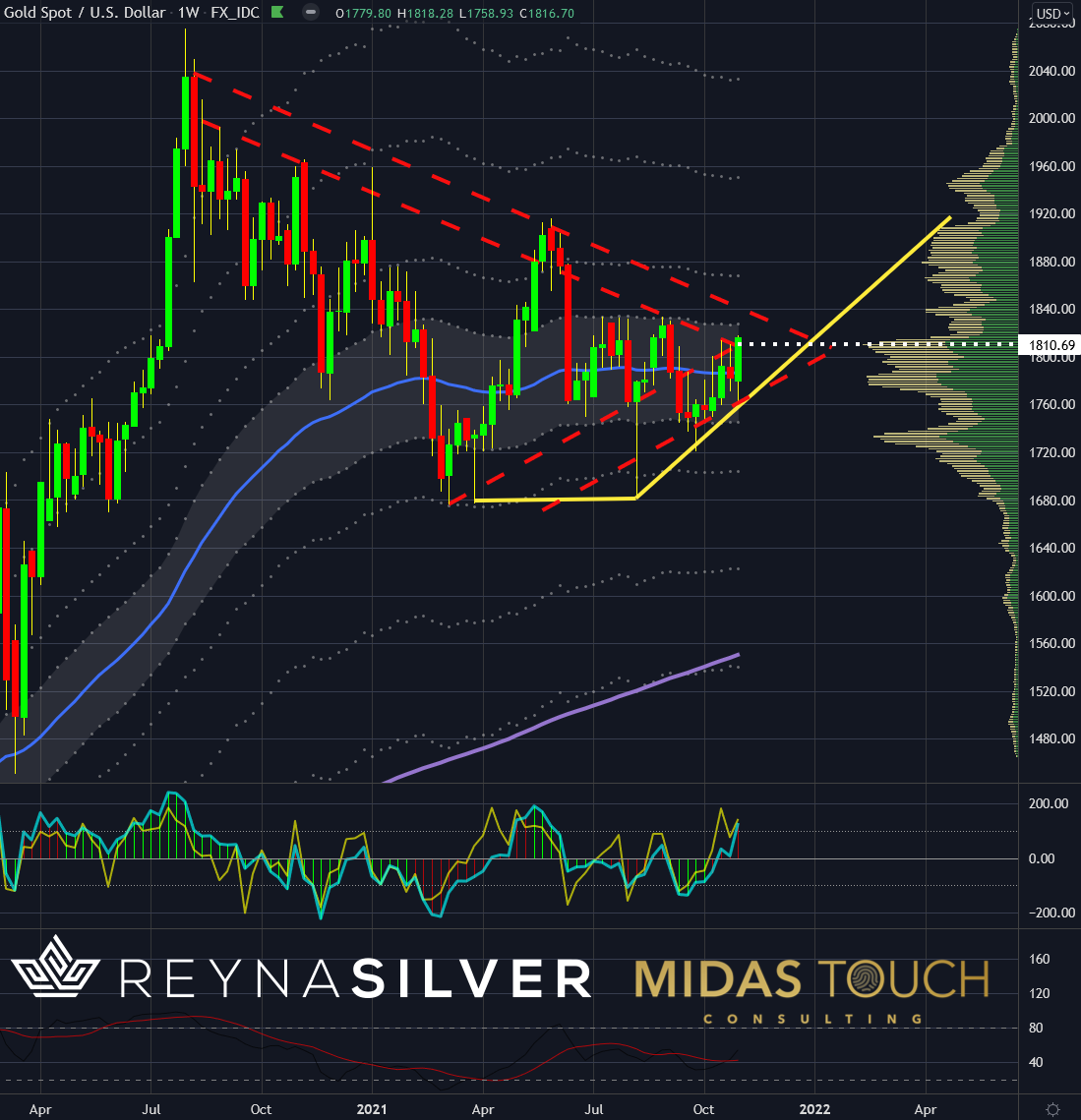 Gold Weekly Chart As Of Nov. 5, 2021
The weekly chart has just come alive to an exciting inflection point. A closer look reveals that price has successfully built a second leg from the US$1,680 double bottom price zone (yellow lines). The upcoming weeks should show if a double triangle formation (red lines) was severed now that the price is trading above POC support of a fractal volume study (white line).
Silver weekly chart - looking good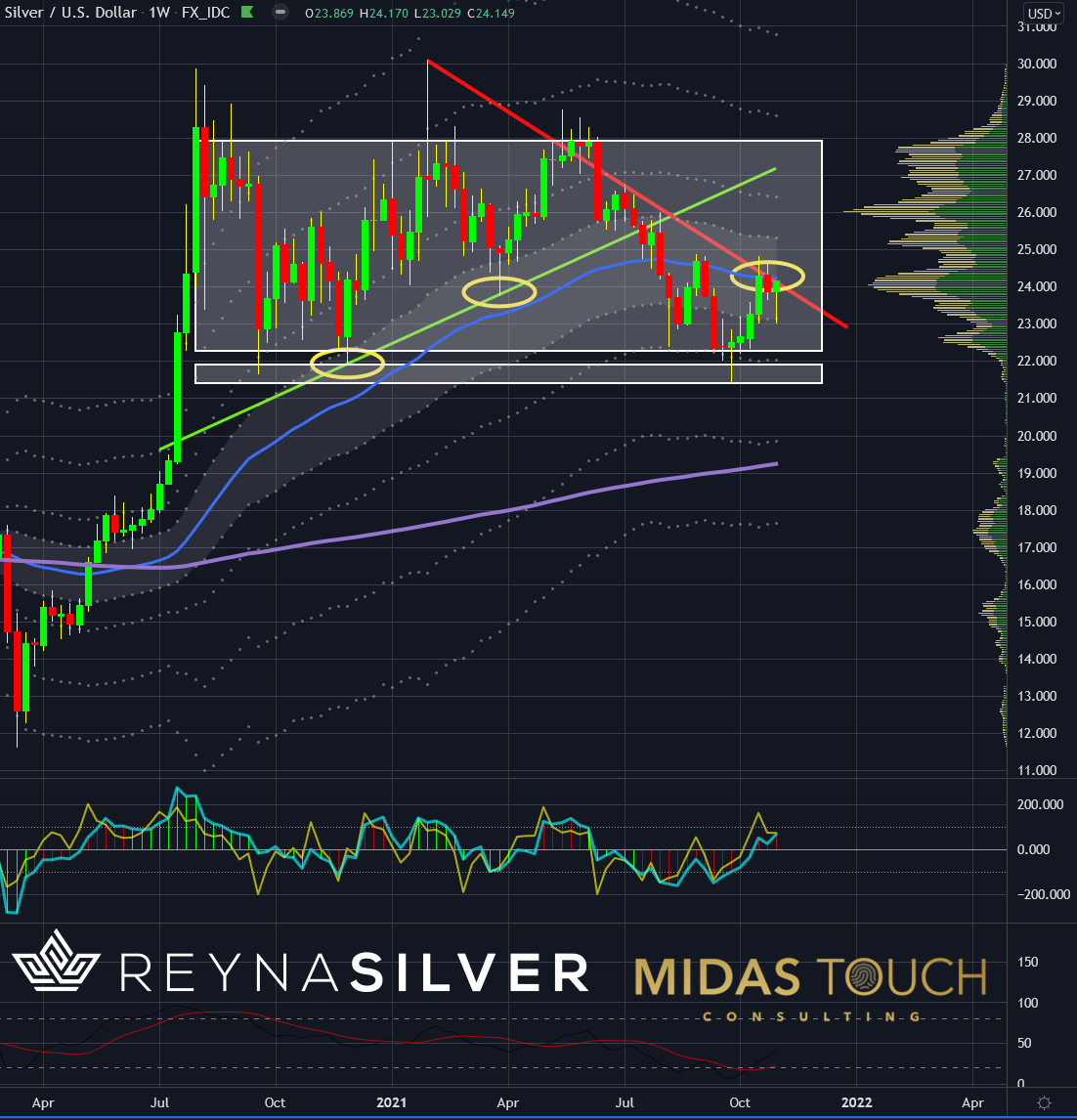 Silver Weekly Chart As Of Nov. 5, 2021
The weekly silver chart is bullish as well. Bulls have successfully defended the yearly range lows zone (slim white box). They mutually are attacking an overhead resistance with quite some might, and upcoming weeks might find price successful in that attempt.
Silver monthly chart - history as a guide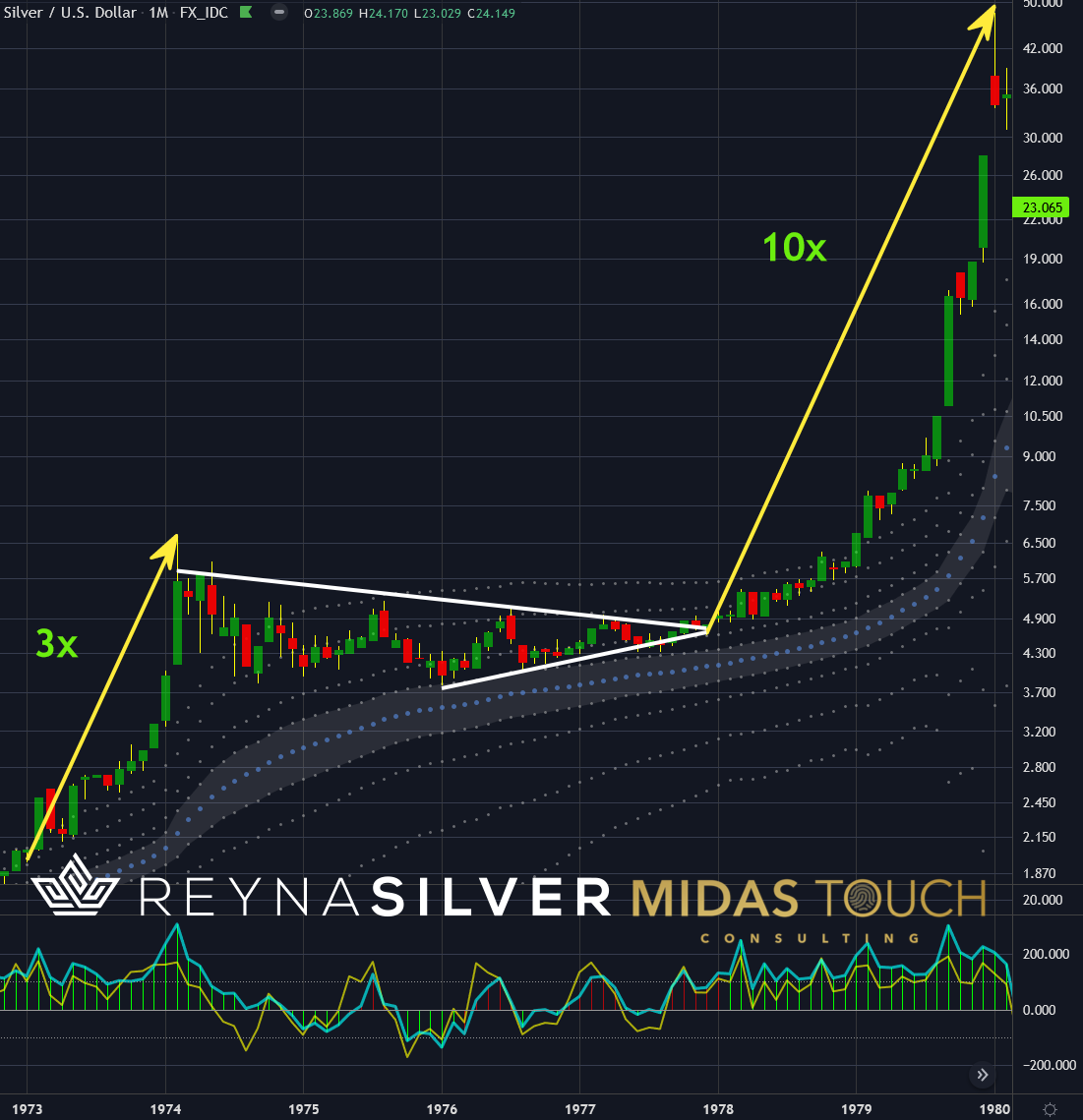 Silver Monthly Chart As Of Nov. 5, 2021
The above monthly chart shows an excellent example of how much patience is needed to earn significant profits from a silver investment. In this case, silver initiated a range break in 1973, where prices tripled within a year. Much like silver's recent move from March last year to the current top in February this year, it showed a similar percentage move. This first leg of a bullish trend required more than three years of investors' patience before the second leg was initiated. Those patient enough to hold on were rewarded with a near thousand percent price increase.
"It never was my thinking that made the big money for me. It always was my sitting."
Nothing has changed in the last hundred years about the principle value of this quote by Edwin Lefèvre (Reminiscences of a Stock Operator, published in 1923). We are used to active participation in a process to earn one's wages. In this aspect however, the market is counterintuitive.
"The desire for constant action irrespective of underlying conditions is responsible for many losses in Wall Street even among the professionals, who feel that they must take home some money every day, as though they were working for regular wages." Lefèvre again points towards patience and a state of inactivity being just right in market play.
We find the last phase of silver in a sideways range if anything is encouraging to a substantial second leg up in the making, It will therefore reward the patient owner of his physical holdings.
Originally posted on investing.com.