EDITOR'S NOTE: If 2016 to 2020 was an era of "alternative truths," then 2021 to the present was a period in which social media conspiracy theories were exposed, outed, and canceled. It's sometimes hard to tell the difference between well-informed fringe forecasts and pure conspiracy theories. The latter becomes the former the closer the forecast materializes into a real event. I mean, who would have believed it if someone in 2018 were to warn the world that a pandemic was soon about to infect the globe? Well, here are 10 so-called conspiracy theories that conspiracists believe will be validated this year. And they all blame the left (so, apologies in advance to our left-leaning readers). Bold harbingers of soon-to-be truths, or another entertaining round of nutcase notions? I guess we'll find out.
Authored by Ben Sellers via Headline USA,
There has been a lot of talk lately about the "word of the year."
Some say it is "gaslighting," which happens to be a personal favorite of mine.
Others say "goblin mode," a bizarre term linked to Kanye West and Elon Musk that the Left's semantic gatekeepers have rushed to redefine from a meme that was funny precisely because it had no obvious definition.
In the spirit of New Year's predictions, I will boldly assert that the same may be true of 2023's future word of the year, "conspiracy theory."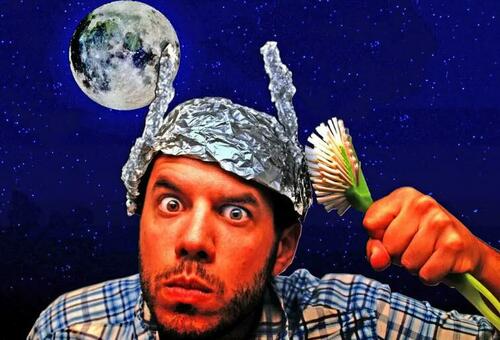 Source: ZeroHedge
Like "gaslighting" and "goblin mode," it is a term that has taken on a new meaning in light of current events—and one that the Left–Establishment hegemony has desperately sought to appropriate and weaponize for its own purposes.
But in the next 12 months, we will see conservatives successfully reclaim it. In fact, the early adopters are already lighting the way on social media.
There is this pic.twitter.com/GwNQpbWzq2

— Oldguy (@Iambord6) December 25, 2022
— Kay Turner (@Kay_turner) December 25, 2022
What is the current "conspiracy theory" that will be true in six months?

— Ryan Cunningham (@rycunni) December 26, 2022
Increasingly, we are seeing the corruption of the Biden administration start to come out in the wash, with growing backlash. Questions that the media tried to deny and deride in service to their agenda have since had the curtain lifted. More and more, even averred leftist idealogues, like ex-Planned Parenthood leader Leana Wen, are admitting that they lied about various aspects of the COVID pandemic.
"If the Chinese military unleashed a deadly manufactured flu virus on the world, Joe Biden would blame you for it! And actually, he did!" - @TuckerCarlson

Dr. Leana Wen Now Admits 'Pandemic of the Unvaccinated' Was a Total Lie pic.twitter.com/8AkB1AJ86a

— Red Voice Media (@redvoicenews) December 25, 2022
While the Twitter Files have played a huge role in exposing the unseemly and unconstitutional collusion between U.S. spy agencies and Big Tech, a flurry of GOP-led investigations in the House will bring at least the semblance of accountability back to The Swamp, even if it is more or less a paper tiger.
Fox News host Tucker Carlson, who was named Media Matters's "Misinformer of the Year," recently reflected on the origin of the term "conspiracy theory," which emerged from the Warren Commission's efforts to cover up the assassination of former President John F. Kennedy.
Source: YouTube
JFK may have been the first time that deep-state operatives in the intelligence community succeeded in overthrowing a sitting president.
Since then, it has happened at least two more times, with FBI and CIA fingerprints all over both the Watergate scandal and the 2020 election fraud.
But having overplayed their hand, the entire house of cards now seems poised to collapse, validating skeptics' belief that everything they have been told for the past half-century has been part of the real Big Lie, and that our idea of democracy has been but an illusion.
With that in mind, here are 10 things that the powers-that-be in D.C. have yet to cop to, but which will soon be impossible to ignore, in no particular order:
Originally published by ZeroHedge