EDITOR NOTE: The demand for labor is soaring, with 8.1 million job openings available. And with nearly 10 million unemployed, it's easy to imagine the competitive environment among those ready to fill these positions. Except, that's not what's happening. Many of the unemployed don't seem to want the jobs--jobs spanning a wide range of sectors and industries. The truth is that most are making a larger income through government benefits than they would otherwise at work. Government has unwittingly incentivized not working--a strong test case for Universal Basic Income, by the way. Companies can't fully reopen or they can't expand their output without workers. Yet potential workers would rather collect a check from Uncle Sam. It's a standoff. And if it continues, the effect of which would hold back economic growth, then the government's solution appears to be more even stimulus, more benefits. More job openings unfilled, and more unemployed receiving an even higher annual "salary."
In case we needed more proof that the US labor market is in a supply-demand mismatch crisis, a few hours after the latest NFIB showed that it has never been more difficult for small business to fill job openings, moments ago the BLS confirmed what we expected: that the number of job openings in March (recall JOLTS is one month delayed) soared by a massive 597K to 8.123MM in March from an upward revised 7.5MM in February, and the highest on record!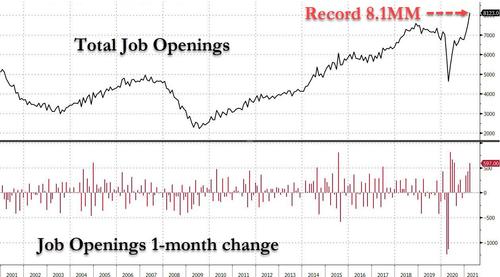 The actual number was a 6-sigma beat to already lofty expectations of a 7.5 million print.

Looking at the details, the increase in job openings was driven by industries with the largest increases in accommodation and food services (+185,000); state and local government education (+155,000); and arts, entertainment, and recreation (+81,000). The number of job openings decreased in health care and social assistance (-218,000). The number of job openings increased the most in the Northeast and Midwest regions.
Separately, in yet another indication of the record surge in demand for labor since the collapse last April when there were 18.1 million more unemployed workers than there are job openings - the biggest gap on record - the gap has since shrunk dramatically to just 2.6 million in February, down from 3.2 million in January. Yes: despite the covid shock, there are just 1.6 million more unemployed people than there are job openings!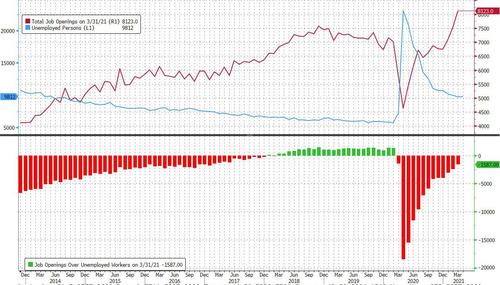 As a result, there has been even more continued improvement in the job availability series, and in March there were 1.19 unemployed workers for every job opening, down from 1.35 in February and from 4.6 at the peak crisis moment last April.
Meanwhile, confirming the accelerating in the hiring picture as covid lockdowns were lifted, in March hiring surged for a 3rd consecutive month to 6.009MM, up 215K from 5.794MM in February.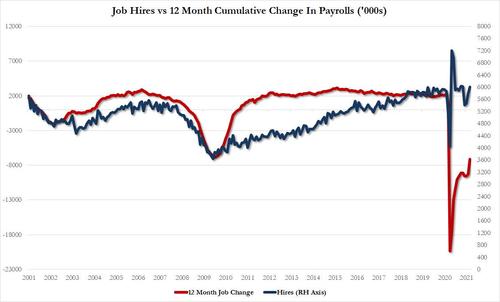 According to the BLS, hires increased in state and local government education (+62,000); educational services (+31,000); and mining and logging (+17,000).
Curiously, as hires soared, the number and rate of total separations actually declined by 107K to 5.322MM. The total separations level decreased in construction (-82,000) and in state and local government education (-25,000).
Finally, confirming the overheating in the labor market sparked by "Biden's trillions" and the tsunami of unemployment benefits which has prompted a wave of revulsion toward work in general, in March the level of quits - or people leaving their job voluntarily due to better prospects elsewhere - rose by 125K to 3.508 million, after rising by 77K in the previous month. The number of quits increased in accommodation and food services (+63,000) and in information (+16,000). Quits decreased in state and local government education (-19,000)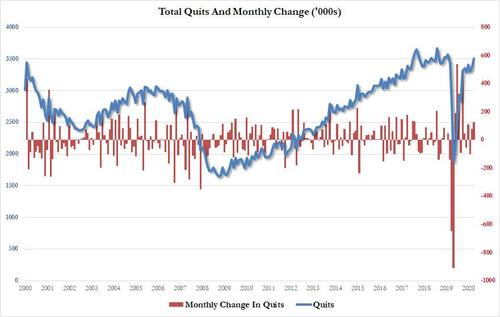 Original post from ZeroHedge