EDITOR NOTE: Everyone has a "personal inflation rate," a condition rarely mentioned but closer to reality as each individual household's costs and economic situation differs. According to a University of Michigan Sentiment Indicator, based on consumer sentiment, households with annual incomes less than $75,000 are experiencing inflation rates that are beginning to signal "stagflation"--a condition in which high inflation, low economic growth, and high unemployment prevail simultaneously. For practical purposes, we tend to think in general terms, as in the "majority" of Americans. But this way of thinking also flattens-out the unique peripheries of American society. Just because stagflation doesn't appear in the official numbers doesn't mean it's absent from the experience of many Americans. The 10 million people unemployed in the US as a result of the pandemic reminds us that such a situation can easily befall us should bad fortune find its way to our doorstep. Although losing a job or experiencing low economic growth as a result of a job loss may be less within your control, hedging your current wealth via non-CUSIP gold and silver and avoiding high inflation is something you can easily do.
After disappointing in January (both current and expectations), analysts expected a rebound in consumer sentiment in preliminary February data (both current and expectations), but they were very disappointed as everything missed expectations.
U.S. consumer sentiment unexpectedly declined to a six-month low in early February as the outlook for personal income deteriorated and more Americans anticipated faster inflation in the year ahead.
The gauge of expectations decreased to a six-month low of 69.8 while a measure of current conditions eased to 86.2, according to the survey conducted from Jan. 27 to Feb. 10.
The entire drop in sentiment is concentrated in the Expectation Index and among households with incomes below $75,000. Households with incomes in the bottom third reported significant setbacks in their current finances, with fewer of these households mentioning recent income gains than anytime since 2014.
When asked to assess their current financial position, the deep divisions become apparent: among those with incomes in the bottom third, just 23% reported improved finances, the lowest since 2014; in contrast, among those with incomes in the top third, 54% reported their finances had improved. Mentions of income gains fell to just 17% among those in the bottom third, compared with 44% in the top income third.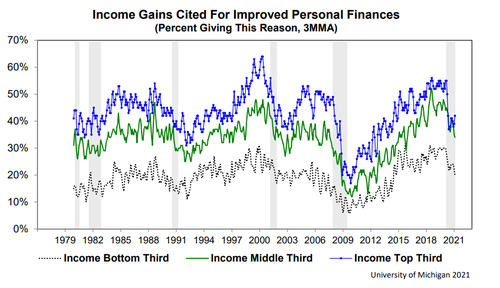 Blame the poor:
"Households with incomes in the bottom third reported significant setbacks,'' Richard Curtin, director of the survey, said in the report.

 "Presumably a new round of stimulus payments will reduce these financial hardships.''
The biggest sentiment driver for now remains the partisan divide with Republicans confidence slumping and Democrats hope soaring...
Buying Conditions for houses and vehicles dropped notably in January and continued to fall in early Feb data...
Consumers expect a year-ahead inflation rate of 3.3%, the highest since July 2014.
Stagflation anyone?