EDITOR'S NOTE: Many experts analyzing the current gold rally are relying on "technical" indicators simply because the fundamental environment amid the war in Europe, high inflation on a global scale, and the winding down of a pandemic are rendering any attempt to forecast intermediate-term price action indeterminate; not a coin flip with a 50/50 outcome, but more like a dice throw. So, what are these technicals saying? They're saying that gold is overbought. But you have to ask: overbought according to what context, for how long, and based on what benchmarks? Now, the notion of "overbought" itself becomes something of a dice throw. Yet, for those looking to plan their entry strategies or asset rebalances, technicals are an important part of the equation. The FX Empire article below strategically examines the technical picture, examining the critical price levels where strong market action is likely to get triggered. An important read, particularly for those looking to time the gold market.
Don't be fooled by talk of overbought conditions, the rally is being driven by a war and extremely high inflation, not a technical indicator.
Comex gold futures are edging higher on Wednesday, while hovering slightly below yesterday's multi-month high. The early price action suggests investors may be trimming long positions in reaction to rising Treasury yields and a slight increase in demand for risky assets. Investors could also be expressing some caution as the market approaches its record high.
At 08:00 GMT, April Comex gold futures are trading $2052.10, up $8.80 or +0.43%. On Tuesday, the SPDR Gold Shares ETF (GLD) settled at $191.47, up $5.06 or +2.71%.
Some traders see the market as overbought based on some oscillator or indicator, but the current rally is not be driven by an oscillator or indicator, it is being fueled by headlines and a war in Ukraine. Worries of inflationary risks are also supporting the market.
The market should continue to run higher if the situation in Ukraine escalates or if inflation runs out of control. Gains could be limited by the Fed's expected rate hike next week, but traders have known about that for weeks. Nonetheless, the bullish fundamentals are much stronger than the "so-called" overbought oscillators and indicators so any pullback in prices is likely to attract new buyers.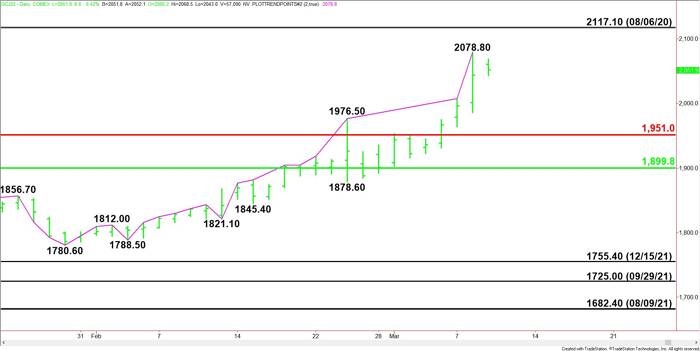 Daily April Comex Gold
Daily Swing Chart Technical Analysis
The main trend is up according to the daily swing chart. A trade through $2078.80 will signal a resumption of the uptrend. A move through $1821.10 will change the main trend to down.
Today's early inside move suggests investor indecision and impending volatility.
The minor trend is also up. A trade through $1878.60 will change the minor trend to down. This will also shift momentum to the downside.
The main range is $2117.10 to $1682.40. The market is currently trading on the strong side of its retracement zone at $1951.00 to $1899.80, making the area major support.
Short-Term Outlook
The major upside target is the August 6, 2020 all-time high at $2117.10. Taking out this level could trigger an acceleration to the upside.
The last time the market was at this level was nearly five months after the start of the Coronavirus pandemic. The fundamentals were different at that time. Central banks were flooding their respective economies with massive amounts of liquidity.
This time, the rally is being fueled by historically high inflation and safe-haven buying due to war. However, central banks are now considering moves to reign in the massive amounts of liquidity.
Providing liquidity and reducing liquidity kind of offset each other, which indicates high inflation and safe-haven buying are the real drivers of this current rally.
Look for the bullish tone to continue as long as $1951.00 to $1899.80 holds as support.