EDITOR NOTE: China is making a huge push in the financial technology, or Fintech, sector. The country is now home to a "Big 5" group of Fintech conglomerates that are making major inroads into Europe's banking and financial market. These state-regulated companies are gaining more access to global financial data, giving the Chinese Communist Party direct access to some of the largest financial markets in the world. As the U.S. government pushes for more Fintech in our own banking industries, these companies will likely become more involved. If user privacy is not already dead in banking, it is quickly dying, and China's Fintech companies are some of the biggest drivers of this demise. 
"China will establish and improve the platform economy governance system, giving equal importance to development and regulation, amid efforts to boost fair competition, fight monopoly and prevent the disorderly expansion of capital". So are the words of Xi Jinping during the ninth meeting of the Central Committee for Financial and Economic Affairs. The so-called platform economy is in fact a broad label, which covers technology companies and their respective arms in different sectors, including FinTech.
The FinTech industry aims at competing with traditional financial methods and extending the reach of financial services. Especially in the case of China, FinTech has contributed to financial inclusiveness and extended financial services to a large portion of China's population that does not have traditional credit history and still lives in rural areas. In 2019, the global FinTech market was valued at about USD 111 billion, and is expected to grow to USD 158 billion by 2023. China has one of the most dynamic FinTech markets in the world. In 2018, its FinTech investments reached USD 25.5 billion, ranking first in the world and amounting to about half of the global total of FinTech investments that year.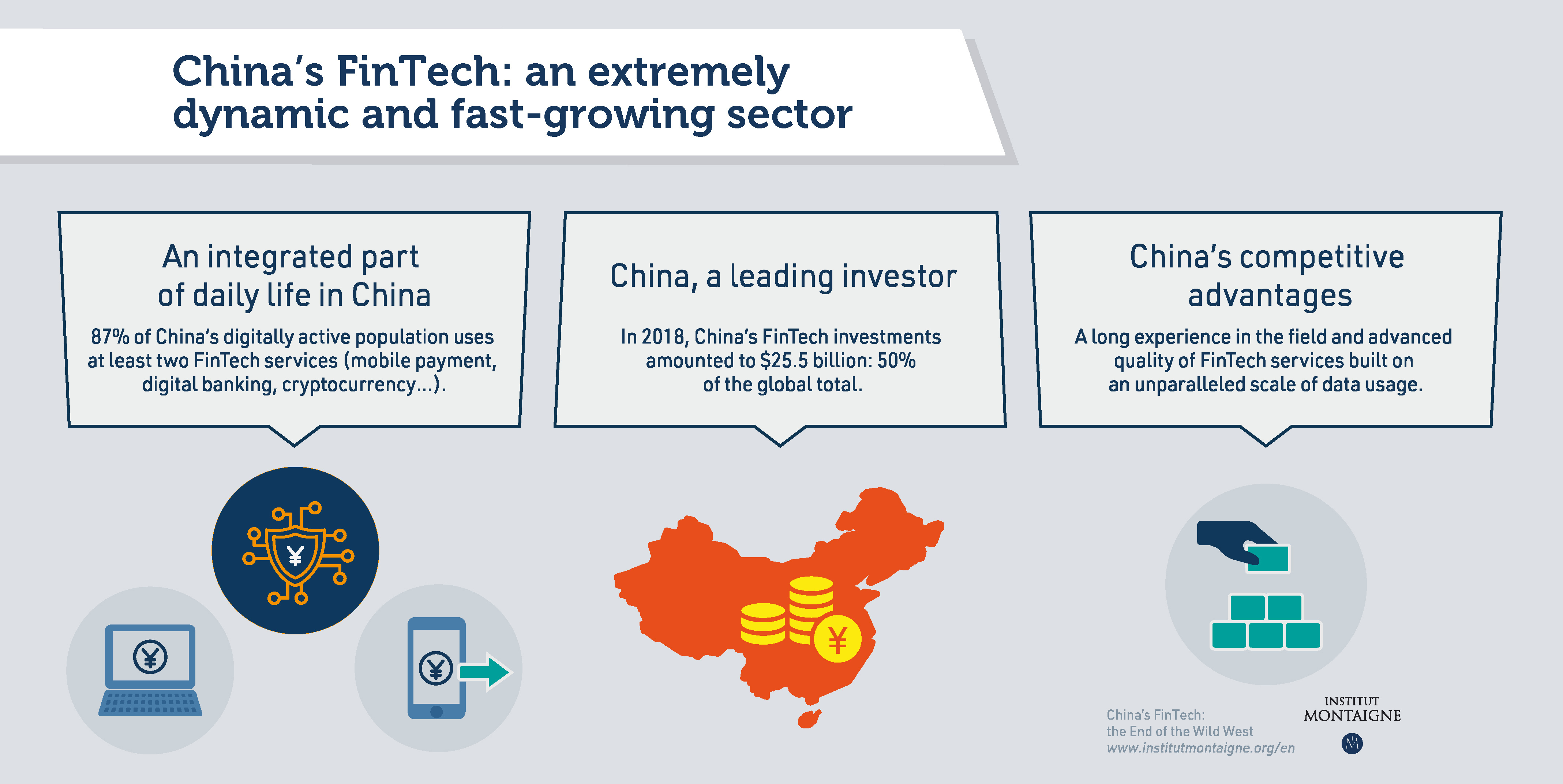 The years 2020 and 2021 mark a critical turning point in the history of the FinTech sector in China. The drama around Ant Group and its founder Jack Ma - notably when the company's $37bn IPO was suspended by Chinese authorities - is only the tip of the iceberg. The issuing of a new set of regulations shows that the Chinese government is seeking to strike a new balance between FinTech innovation and regulation. After a long period of hands-off approach, China is now tipping the scale towards regulation. To understand the Chinese FinTech landscape and put the recent events into context, Institut Montaigne is publishing a policy paper examining the regulatory path taken by the Chinese FinTech sector. 
A few years ago, having gained confidence through their domestic success, Chinese FinTech companies started to have a growing appetite for the global scale. There have been some results: Ant Group and Tencent have provided convenience abroad to their Chinese e-wallet users. Ping An sells its financial services as "products" to foreign micro, small and medium enterprises (MSMEs). At home, they could grow with only limited outside competition, but this is not the case in the global market. Their actual presence in Europe remains de facto limited - especially compared to the well-established American tech giants. It is also important to note that international expansion is currently not the priority of Chinese FinTech companies. But thinking ahead, the possible expansion of Chinese FinTech platforms in Europe raises important questions.
Looking ahead: data transfers and flows between China and Europe
The most important policy question for Europeans to anticipate relates to the possible implications of the expansion of Chinese FinTech giants for cross-border data transfers. The question pertains to the collection, use, storage, processing, and sharing of data of European data subjects, i.e., European citizens and residents.
Looking into the operations of the main Chinese FinTech companies, as well as their parent Tech companies, it is apparent that their business models are even more data-driven than those of their global competitors. They penetrate into their customers' life, which covers almost all aspects, gathering real-time data. This is an advantage that non-Chinese companies find hard to compete with.
However, could the business models which ensured success in the Chinese domestic market also provide a foundation for Chinese FinTech expansion in Europe? The arrival of Chinese FinTech companies, which built their empires based on an incomparable size and scale of data usage, raises various concerns. These concern data privacy of users as well as the asymmetries of economic models being leveraged by Chinese companies to gain market shares.
Europe's regulatory efforts to safeguard personal data are distinctive. The General Data Protection Regulation (GDPR) entered into force in May 2018. Chinese companies that collect and process data of EU citizens and residents are therefore subject to GDPR due to its extra-territorial effect. The EU's own legal protection against data misusage creates a barrier for data-driven Chinese FinTech companies with an ambition to enter the European market.
These Chinese companies are also likely going to be subject to the proposed EU Digital Services Act (DSA) and the Digital Markets Act (DMA). Bearing in mind DMA's definition of "gatekeeper", the five FinTech giants examined in this paper are likely to fall under these two new proposals should they wish to ramp up their European expansion. These regulatory proposals might restrain these FinTech companies from becoming dominant players in the EU internal market once adopted.
Albeit some limitations, the Chinese platforms still possess important assets for an international expansion in the FinTech sector. These include their long experience in the field and the quality of their technologies built on access to limitless amounts of domestic data. Although the international expansion is not Chinese FinTech giants' top priority at the moment - as it is being hindered by both external and internal factors -, European banking and finance would do well to prepare for this competition in the near future.
Original post from Institut Montagne