EDITOR NOTE: Something to think about: President Biden's spending spree and fiscal stimulus is equivalent to around 20% of America's GDP. What kind of tailwinds might that present? Last week, stronger-than-expected jobs report data triggered a massive market rally. Yet, every week, almost a million new jobless claims are being filed. Signs of consumer inflation are beginning to creep up, yet not all prices (like homes) that may indicate even higher levels of inflation are included in the CPI. Add in a widening trade deficit, budget shortfalls, and a rapidly depleting private savings rate, and you've got not the picture of robust growth, but a paper-fueled economy that's on the brink of a major tear. Is there any reason, considering the scenario we described, that international confidence in the dollar as a reserve currency should remain solid and without a doubt? 
U.S. Exceptionalism Comes With a Cost to the Dollar
While the greenback may look forward to supercharged U.S. growth, the spending that's being unleashed to drive American exceptionalism comes with an eventual cost –- and a big dollar sign in front of it.
A U.S. economy set to accelerate at a near four-decade-high rate of growth is upending the 2021 consensus trade for dollar declines. Aggregate net-short bets have tumbled by roughly three-quarters, or more than $20 billion, since January, with the Bloomberg Dollar Spot Index coming off its best quarter in a year.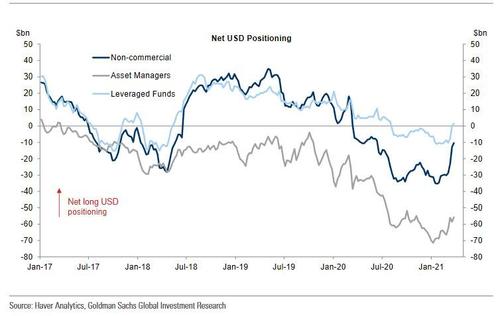 A fiscal push amounting to more than 20% of GDP, towering over those of peers, adds to tailwinds for relative U.S. growth. And a resumption of strong U.S. data can bolster near-term upside, with a robust March non-farm payrolls print kicking it off. That's as the U.S. braces for a period of unleashed pent-up demand and a transitory surge in price pressures.
Sharp upward growth and inflation revisions are feeding into nominal spreads, still a driving force in currency markets. Reflation expectations have underpinned Treasury yields' race higher against G-10 peers, most evident among low-yielding currencies.
USD/JPY breached 110 this week, its highest since March 2020. The Swiss franc continues to tumble, reaching mid-2020 lows against the greenback. And the premium on U.S. 10-year Treasuries over German bunds at pre-pandemic levels sent EUR/USD tumbling below its 200-day moving average.
With synchronized global growth delayed by stumbling vaccine rollouts and extended lockdowns abroad, an extension of U.S. growth exceptionalism can support the broad dollar index through the second quarter -- a pattern similar to that seen in early 2018.
But there is a risk in extrapolating strong U.S. growth in the first half of 2021 through year-end. Improving recoveries elsewhere, diverging monetary policies and ample liquidity could push investors away from the U.S. dollar, which is still expensive on a PPP basis. Pro-cyclical currencies could rally, with low-yielders bearing the burden of further U.S. dollar upside.
External imbalances accompanied the dollar bear market that began in the early 2000s. The ICE Dollar Index peak in 2020 is set up for another secular decline with the U.S. twin deficits already clocking in around 19% of GDP in the final quarter of 2020, before the latest infrastructure pledge.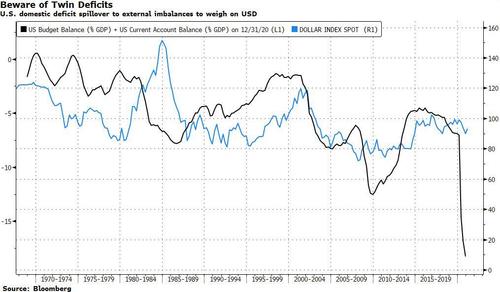 Ultimately, U.S. growth boosted by free-flowing fiscal taps comes with an eventual price tag of a weaker greenback. Ballooning budget shortfalls, the risk of depleted private savings and U.S. strength feeding into widening trade deficits can finally shake confidence in the world's reserve currency.
Originally posted on ZeroHedge