EDITOR NOTE: Both the yellow and white metals took a sharp slide today as the July Employment Situation (more informally referred to as the jobs report) delivered numbers that nearly matched analyst expectations. Non-farm payrolls increased 943,000 in July and the unemployment rate slid to 5.4%. Most of the job growth was in leisure and education. This boosts optimism on Wall Street and signals a "risk-on" play to pile into the stock market, even at its current valuations which everyone knows are too high. Gold, on the other hand, remains "the most under-owned, least crowded trade in the global financial markets. … The era in which gold was the asset that people loved to hate and hated to love is starting to come to an end. We're still in the very early innings. It's still a smart money trade as opposed to a big passive money trade but that's about to happen," according to Electrum Group's Thomas Kaplan. Wise words indeed. The likelihood of Fed tapering increases as the labor market tightens. Still, this does not spell the end of the inflationary trend that's just getting started. Inflation is a monetary issue, and with the money supply at record highs, a single on-target monthly jobs report is not going to signal that every hazard threatening our economy is suddenly going to disappear. With prices rising, an overvalued stock market, a looming taper tantrum, and new delta variant cases rising, gold and silver will likely be the "generational trade" to define the coming decades.
With consensus expectations calling for a July payrolls print of 858K and whisper numbers starting at 1 million and rising (and Goldman going so far as expecting 1.175MM), moments ago the BLS reported that in July payrolls came in at a goldilocks 943K, comfortably beating the consensus but below the 1MM print that could be considered a clear trigger for "substantial progress" for Powell, although likely sufficient for the Fed to signal the start of tapering at Jackson Hole.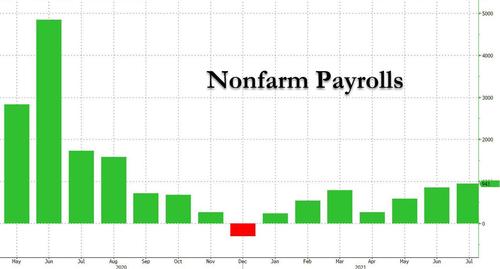 One quick note: while the headline number was solid, more than half of the job gains came from leisure and hospitality jobs (+380K), i.e., bartenders, waiters, hotel workers and so on, and another 261,000 came from education. Also worth noting - unadjusted for seasonal factors, employment actually dropped by 133,000. That's mainly due to a big drop in government jobs. Private payrolls, unadjusted, climbed 779,000.
Historical data was also revised solidly higher, with the May number revised up by 31,000, from +583,000 to +614,000, and the change for June revised up by 88,000, from +850,000 to +938,000. With these revisions, employment in May and June combined is 119,000 higher than previously reported. Of note: manufacturing payrolls revised higher for June -- actually more than double the original figure -- and came in slightly above forecast for July, at 27,000 after a revised 39,000 in June.
While payrolls were solid, the unemployment rate was stellar, sliding from 5.9% to 5.4%, beating expectations of 5.7% as the number of people employed according to the Household Survey soared by 1.043 million to 152.645 million as the number of people unemployed dropped by almost 800K to 8.702 million from 9.484 million.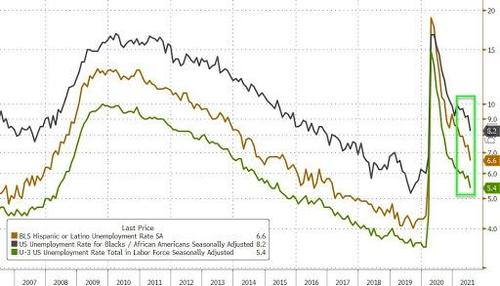 Validating the solid unemployment rate data, the civilian participation rate also rose modestly from 61.6% to 61.7%...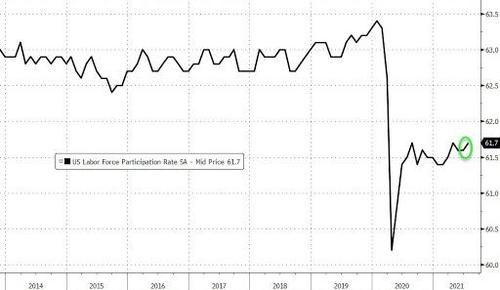 ... while the underemployment rate also dipped to 9.2% from 9.8%.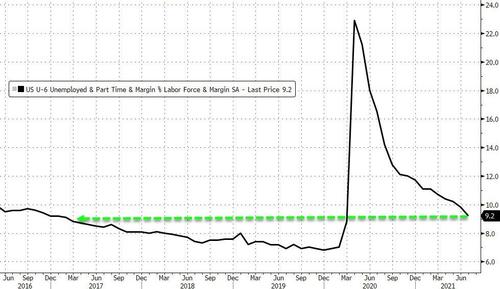 The average hourly earnings for all employees on private nonfarm payrolls increased by 11 cents to $30.54, following increases in the prior 3 months. Average hourly earnings for private-sector production and nonsupervisory employees also rose by 11 cents in July to $25.83. The data for recent months suggest that the rising demand for labor associated with the recovery from the pandemic may have put upward pressure on wages. However, because average hourly earnings vary widely across industries, the large employment fluctuations since February 2020 complicate the analysis of recent trends in average hourly earnings.
In July, the average workweek for all employees on private nonfarm payrolls was unchanged at 34.8 hours. In manufacturing, the average workweek increased by 0.2 hour to 40.5 hours, and overtime was unchanged at 3.2 hours. The average workweek for production and nonsupervisory employees on private nonfarm payrolls was unchanged at 34.2 hours
There were also good news on the wage front with average hourly working surging by 4.0% Y?Y, the highest since March.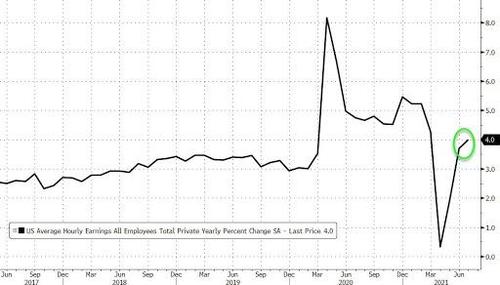 And another clear indication of "substantial progress" - the number of temporary layoffs has now plunged to pre-Covid levels.
A quick look at the composition of job gains:
Employment in leisure and hospitality increased by 380,000. Two-thirds of the job gain was in food services and drinking places (+253,000). Employment also continued to increase in accommodation (+74,000) and in arts, entertainment, and recreation (+53,000). Despite recent growth, employment in leisure and hospitality is down by 1.7 million, or 10.3 percent, from its level in February 2020.
Employment rose by 221,000 in local government education and by 40,000 in private education. Staffing fluctuations in education due to the pandemic have distorted the normal seasonal buildup and layoff patterns, likely contributing to the job gains in July. Without the typical seasonal employment increases earlier, there were fewer layoffs at the end of the school year, resulting in job gains after seasonal adjustment. Since February 2020, employment is down by 205,000 in local government education and 207,000 in private education.
Employment in professional and business services rose by 60,000 in July. Within the industry, employment in the professional and technical services component rose by 43,000 over the month and is 121,000 above its February 2020 level. By contrast, employment in the administrative and waste services component (which includes temporary help services) changed little over the month (+20,000) and is 577,000 lower than in February 2020. Employment in the management of companies and enterprises component was also little changed over the month (-3,000) but is 100,000 lower than the level in February 2020. Employment in professional and business services overall is down by 556,000 since February 2020.
Transportation and warehousing added 50,000 jobs in July. Job growth occurred in transit and ground passenger transportation (+19,000), warehousing and storage (+11,000), and couriers and messengers (+8,000). Employment in transportation and warehousing has grown by 534,000 since April 2020; the industry has recovered 92.9 percent of the jobs lost during the February-April 2020 recession (-575,000).
The other services industry added 39,000 jobs in July, with gains in membership associations and organizations (+17,000) and in personal and laundry services (+15,000). Employment in other services is 236,000 lower than in February 2020.
Health care added 37,000 jobs in July. Job gains in ambulatory health care services (+32,000) and hospitals (+18,000) more than offset a loss of 13,000 jobs in nursing and residential care facilities. Health care employment is down by 502,000 since February 2020.
Employment in manufacturing increased by 27,000 in July, largely in durable goods manufacturing. Within durable goods, job gains occurred in machinery (+7,000) and miscellaneous durable goods manufacturing (+6,000). Manufacturing employment is 433,000 below its February 2020 level.
Employment in information increased by 24,000 over the month, with three-quarters of the gain in motion picture and sound recording industries (+18,000). Employment in information is down by 172,000 since February 2020.
Employment in financial activities rose by 22,000 over the month, largely in real estate and rental and leasing (+18,000). Employment in financial activities is down by 48,000 since February 2020.
Employment in mining increased by 7,000 in July, reflecting a gain in support activities for mining (+6,000). Mining employment has risen by 49,000 since a trough in August 2020 but is 103,000 below a peak in January 2019.
Employment in retail trade changed little in July (-6,000), following large increases in the prior 2 months. In July, job gains in gasoline stations (+14,000), miscellaneous store retailers (+7,000), and nonstore retailers (+5,000) were more than offset by a loss in building material and garden supply stores (-34,000). Since February 2020, employment in retail trade is down by 270,000.
In July, employment showed little change in construction and wholesale trade.
Looking at the market reaction, while rates spiked on the print, so did futures, suggesting that at least in its kneejerk reaction, the market is viewing good news is being interpreted as good news, a contrast to the trend we've seen in the past year. However as traders digest the report and realize that tapering is coming, spoos and QQQs are taking on water and today could well be the trigger that breaks the S&P's 4,400 magical gravitation. Meanwhile the spike in the dollar indicates that bets on tightening and an early taper are again all the rage.
Originally posted on ZeroHedge