EDITOR'S NOTE: The story: US home prices have fallen for the fourth month in a row. Wasn't that to be expected? Yes, because of rising mortgage rates. So what's the big deal? Two things, actually. First, home prices and home sales are strong harbingers of the economy. Remember that a home purchase has a ripple effect on spending across various sectors of the economy. This surge in spending isn't likely to take place soon. Second, there's a lag between higher mortgage rates and spending. This means that prices are likely to drop even further in the coming months. Isn't this what the Fed was expecting to do? Yes, but we'll have to wait for the coming CPI and PPI reports to see whether the Fed's inflation-fighting tools are actually working. If inflation continues to be stubborn, we can expect the Fed to take a more aggressive stance, and by then, the Fed will likely have tipped the economy into an even deeper recession.
US Home Prices, based on S&P Global's Case-Shiller data, fell 0.52% MoM in October (the latest data available released this morning), slightly better than the 1.1% drop expected. This slowed the YoY growth 8.64% from 10.4% YoY...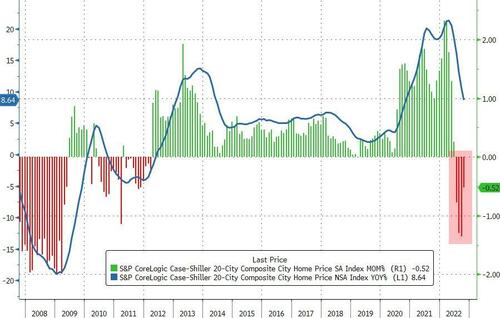 Source: Bloomberg
This is the fourth straight month of declines for home prices.
"As the Federal Reserve continues to move interest rates higher, mortgage financing continues to be a headwind for home prices," Craig J. Lazzara, managing director at S&P Dow Jones Indices, said in statement.

"Given the continuing prospects for a challenging macroeconomic environment, prices may well continue to weaken."
Given the lagged response to the surge in mortgage rates, we suspect the Case-Shiller index has some serious pain ahead...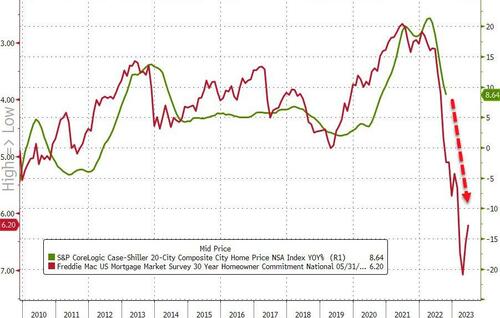 Source: Bloomberg
Miami, Tampa, and Charlotte reported the highest year-over-year gains among the 20 cities surveyed and San Francisco is clinging on with a 0.6% gain...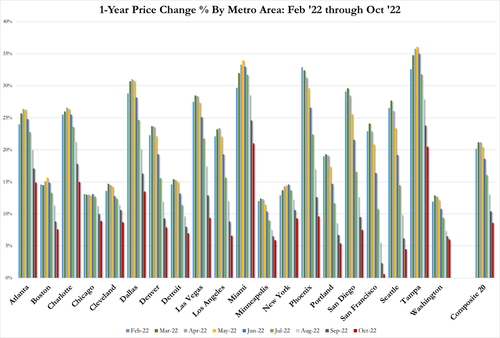 Source: Bloomberg
...and bear in mind that a lot of the gains in Miami and Tampa were 'crypto'-driven so brace for those to catch down to San Francisco's reality soon enough.
Originally published by Tyler Durden at ZeroHedge