EDITOR'S NOTE: The big October jobs report last Friday came out solid, meaning not good news for the Fed. When the Fed is hiking interest rates, it wants to see growth slowing, and in this particular case, Fed Chair Jay Powell even warned that the unemployment rate may tick up, which it did. The problem, however, is that job growth seemed steady and solid. This isn't an indication that inflation, too, may tick up. So, the Fed now has to work harder to weaken the job market. This means more aggressive rate hikes, and possibly a harder fall for the economy. Also, in case you missed it, Powell finally admitted that a "soft landing" is no longer in the picture.
Federal Reserve raised interest rates this week in an attempt to lower inflation, which could impact job growth.
Hiring in the U.S. remained solid in October, presenting challenges for the Federal Reserve's inflation fight.
Employers added 261,000 nonfarm jobs, more than expected and in line with the previous month's 263,000.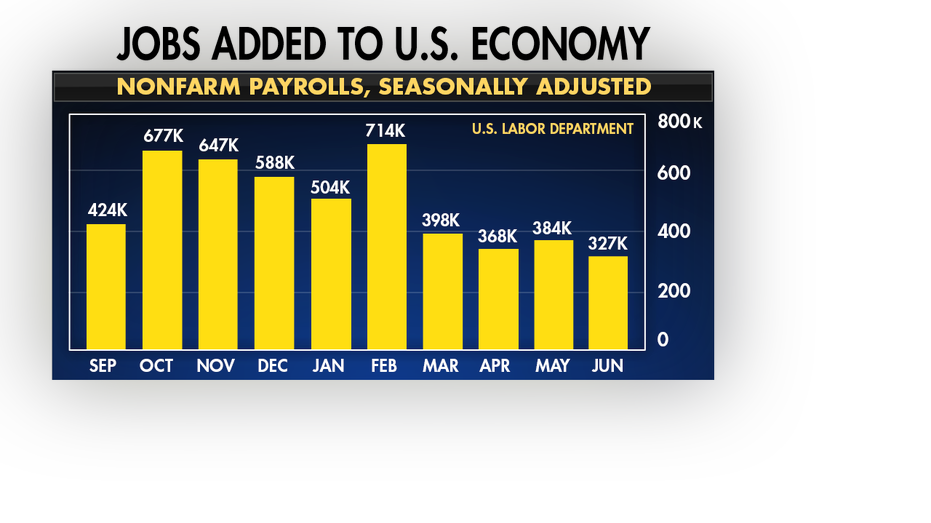 Source: Fox Business
US COMPANIES ADDED 239,000 JOBS IN OCTOBER, BETTER THAN EXPECTED: ADP
The unemployment rate edged higher to 3.7%, up from 3.5% in September.
Hourly pay remained brisk rising at 4.7% year over year, matching September.
"The October employment report is more of a mixed bag than we've seen recently, consistent with an economy absorbing this year's interest rate increases, a strong dollar, high inflation, and challenges confronting the global economy," Bankrate senior economic analyst Mark Hamrick said.
The Fed raised interest rates again this week in an attempt to try to bring inflation down from near a 40-year high.
At Wednesday's Fed meeting, chairman Jerome Powell said that in order to tame inflation, the central bank would likely have to raise rates high enough to weaken the job market. That could mean hiring will slow in the coming months or even that many employers will cut jobs and increase the unemployment rate.
CRUSHING INFLATION COULD PUSH UNEMPLOYMENT TO 6%, WALL STREET BANK WARNS
"The broader picture is of an overheated labor market where demand (for workers) substantially exceeds supply," Powell said. The policymakers want to see signs that job growth and wages are easing, he said, "but I don't see the case for real softening just yet."
A low unemployment rate and solid wage gains are good for workers, but sizable pay raises, especially without gains in workers' efficiency, can contribute to higher inflation.
"This report alone won't sway the Federal Reserve to adopt a new tact on rising interest rates," Hamrick said. "It has a lot more data to digest, including on inflation, before the next policy-setting meeting in mid-December."
JOB OPENINGS UNEXPECTEDLY SURGE IN SEPTEMBER DESPITE FED EFFORTS TO COOL LABOR MARKET
Construction workers talk at a USA Properties Fund site. (Source: AP / AP Newsroom)
Related Jobs Data
In this week's labor-related reports, U.S. job openings unexpectedly surged higher in September.
— Private payroll job growth rose faster than expected in October, according to the ADP National Employment Report released Wednesday morning.
— The Labor Department said Tuesday that there were 10.7 million job openings in September — an uptick from the previous month's reading of 10.1 million.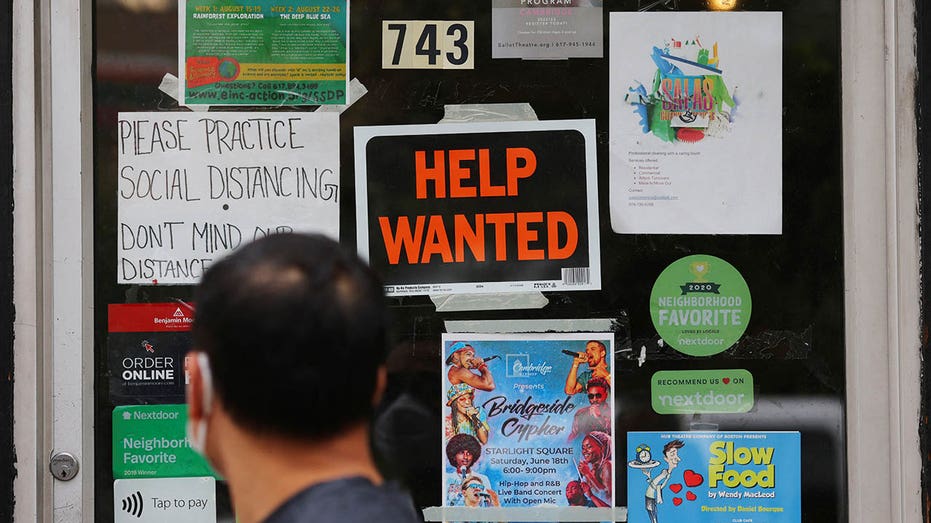 A pedestrian passes a "Help Wanted" sign in the door of a hardware store in Cambridge, Massachusetts. (Source: REUTERS/Brian Snyder / Reuters Photos)
FOX Business' Ken Martin contributed to this report.
Originally published on Fox Business.