EDITOR NOTE: Global analysts knew by the end of the 1990s, when China became a "market economy," that China was poised to become the world's largest and most competitive economy. Thanks to the COVID-19 pandemic, its anticipated dominance on the world stage got pushed forward a few years to 2028. Analysts expect China's growth rate to exceed 5% over the next five years., In contrast, America's debt-fueled expansion is expected to see a growth rate of a mere 1.9%. In short, China will overtake the US as the world's largest and most powerful economy in less than a decade. The dollar will fall and the yuan, which is convertible to gold, will rise. If you want to survive the decades to come, you might do yourself a big favor and convert a significant portion of your wealth to gold. Once this global "revolution" takes place, your dollars may be worthless beyond our borders.
Americans must wake up to the ugly reality that China will overtake the U.S. to become the world's largest economy in 2028, five years earlier than previously anticipated, after weathering the virus pandemic much better than Western countries, according to the Centre for Economics and Business Research (CEBR), a UK-based consultancy group.
In 2017, CEBR initially reported that China would surpass the U.S. to become the world's largest economy by 2032. However, the pandemic and corresponding economic fallout have rapidly brought forward the economic power shift from West to East. 
"The Chinese authorities reacted vigorously and as a result, the Chinese economy has sustained less economic damage than any other major economy," CEBR wrote in the report. 

"Thanks to a strict early response, China has managed to avoid re-introducing the harshest pandemic-fighting measures after the first wave," the consultancy group continued, adding that Beijing's "skillful management of the pandemic" may have tipped the Sino-U.S. competition in China's favor.

"The big news in this forecast is the speed of growth of the Chinese economy," said Douglas McWilliams, the CEBR's deputy chairman. "We expect it to overtake the U.S. a full five years earlier than we did a year ago," he added.
CEBR's annual league table of the growth prospects of 193 countries shows a major power shift and potential economic demise of the West. 
It was noted China might expect average economic growth of 5.7% between 2021-2025 before slowing to 4.5% from 2026 to 2030. 
The U.S. could experience a strong debt-fuelled rebound in 2021, with growth slowing to 1.9% between 2022-2024 and then falling to 1.6% towards the end of the decade. 
Japan, the world's third-biggest economy, is expected to be overtaken by India by 2030. Germany will be pushed down to fifth.
"Other Asian economies are also shooting up the league table. One lesson for western policymakers, who have performed relatively badly during the pandemic, is that they need to pay much more attention to what is happening in Asia rather than simply looking at each other," McWilliams said. 
While the economic shift from West to East will happen much quicker than anticipated, American exceptionalism won't fade overnight but will take a number of years; with that, the dollar is likely to enter a period of downward pressure. 
JPMorgan's latest "Long-Term Capital Market Assumptions" report highlights an extended period of U.S. "exceptionalism" - in growth, interest rates and equity market performance - may be coming to an end. As a result, we expect the dollar to weaken in most crosses over this cycle, with notable falls coming against EUR, JPY, and CNY."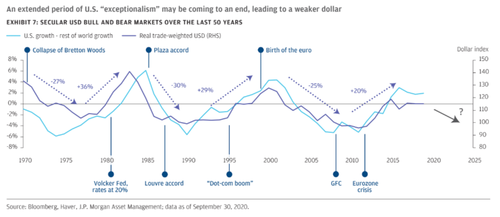 Americans must wake up to the ugly fact that China is ahead of schedule at displacing the U.S. as the world's greatest economic superpower. 
Originally posted on ZeroHedge