EDITOR'S NOTE: According to a recent Bloomberg Op-Ed, the most effective way for President Biden to make a dent in climate change is to first bankrupt American households by sustaining higher gas prices and allowing its effects to inflate all other costs associated with it. The author may not have exactly put it that way, but it's essentially what the author is saying (on a pragmatic level). And there's no guarantee that the outcome will be worth the risk. The cost to switch from fossil fuels to clean energy may require expansive consumption of fossil fuels (certainly, wind or solar aren't powering these EV charging stations). It would also require the majority of Americans to purchase electric vehicles. Right now, around 95% of all Americans don't own EVs. And given the impact that inflation is having on US households, many can barely afford to drive to work or buy groceries, let alone purchase a new electric vehicle. Once clean energy infrastructure is up, there's no guarantee that "sustainable" energy can remain sustainable without legacy energy means. It's all a matter of timing. It may take years of incremental steps for the entire country to migrate from a legacy system to a greener one. Bit Biden and the progressive left want it all now. If anything, it expresses an ideological agenda that's economically clueless and pragmatically ignorant.
The author argued 'fossil fuels must become more expensive'.
Bloomberg opinion published a piece Wednesday calling for President Biden to increase gas prices, intentionally and forever, in order to hasten a transition to alternate forms of energy. The op-ed, written by columnist Eduardo Porter, called for a "$5-a-gallon floor on gasoline prices."
Porter described the policy as "one bold move" that would put a "real dent" in "the emission of heat-trapping carbon dioxide that is causing such havoc with the weather," although he admitted it was unlikely the president would make it.
"As any economist will tell him, the most efficient way to reduce fossil fuel consumption is to raise its price relative to alternatives, encouraging people and businesses to switch to cleaner sources and use less energy altogether," Porter wrote.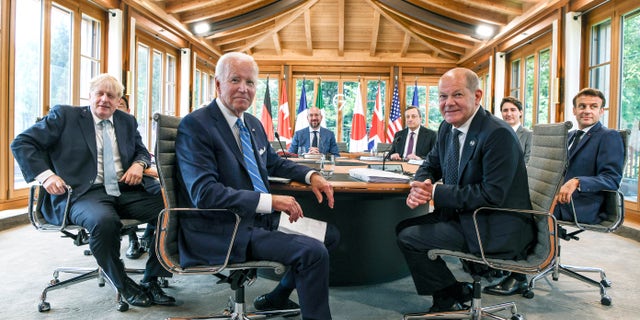 Biden faced backlash in June for suggesting that high energy prices are a "chance" to make a "fundamental turn" to so-called clean energy.
"The beauty of this moment for the president is that he wouldn't have to deploy any political capital for this to happen," Porter wrote.
"Russia's invasion of Ukraine already did the trick — sending the average retail price of gasoline above $5 a gallon in early June. All Biden must do is keep it from falling back," he continued. "The climate would thank him."
HUNTER BIDEN PROBE REACHES 'CRITICAL STAGE,' AS OFFICIALS WEIGH POSSIBLE CHARGES: SOURCE
Porter argued that a $5 gas floor would reduce carbon emissions from cars and trucks. Despite these aspirations, Special Presidential Envoy for Climate John Kerry continues to fly on private jets, emitting over 300 metric tons of carbon since Biden became president.
Further, Porter called for a gas tax to further decrease demand. "While consistently high gas prices would encourage more drilling over the long term — not quite the desired outcome from a climate change perspective — imposing a tax to boost the retail price at the pump would eat into consumer demand without incentivizing further supply."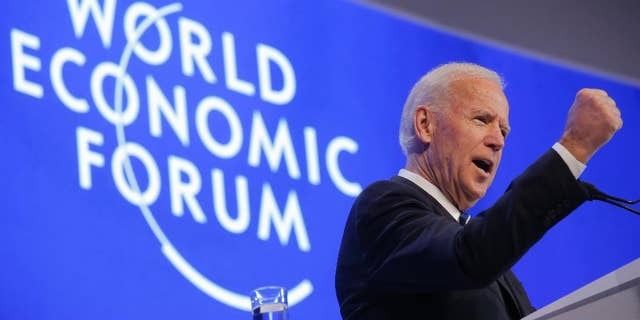 CLICK HERE TO GET THE FOX NEWS APP
"Higher energy prices will eat into consumers' pocketbooks and slow the economy," Porter admitted. "What's important for the president to understand is we have no choice. Fossil fuels must become more expensive."
Originally published on Fox News.