EDITOR NOTE: There are plenty of indicators flashing warning signals that economic growth may not be progressing along the lines of our more optimistic expectations or perceptions. Take the Chicago Fed's National Activity Index. Among 85 indicators, 51 of them indicate a major decline--the index itself showing a staggering crash in February. This should be evidence enough that, at the very least, something is glaringly amiss. Under normal circumstances, such indications would warrant a great deal of caution. But in our post-pandemic economy--one marked by unprecedented events met by equally unprecedented monetary and fiscal responses--things are a bit topsy turvy. And economic growth is no longer a matter of real production but of "paper" in the form of stimulus spending and perpetual money printing. There will come a day when the lack of production will trigger a crash in the paper economy. And when that day comes, the value of paper assets will succumb to the intrinsic value of real assets--gold and silver.
Based on 85 monthly individual factors, The Chicago Fed's National Activity Index unexpectedly plunged in February. Against expectations of a +0.75 print, the data showed a -1.09 (a reading below 0 indicates below-trend growth in national economy).
This is the first decline since April 2020.
34 of the 85 monthly individual indicators made positive contributions, while 51 indicators affected the index negatively (led by declines in indicators related to production and personal consumption and housing).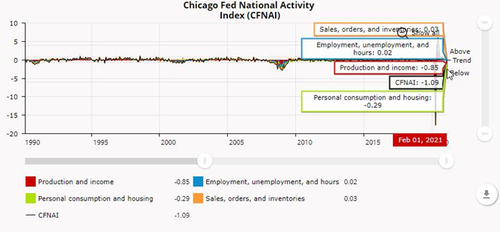 Production-related indicators contributed –0.85 to the CFNAI in February, down from +0.37 in January. Adverse weather played a part in industrial production declining 2.2 percent in February, after rising 1.1 percent in January. The contribution of the sales, orders, and inventories category to the CFNAI edged down to +0.03 in February from +0.06 in January.
The personal consumption and housing category contributed –0.29 to the CFNAI in February, down from +0.27 in January. The indicators in this category broadly deteriorated from January. The contribution of the employment, unemployment, and hours category to the CFNAI edged down +0.02 in February from +0.04 in January. Notably, payrolls in construction and average weekly hours worked in manufacturing declined in February.
But, of course, none of that matters now that around $2 trillion of malarkey is about to wash away any anxiety (for now).